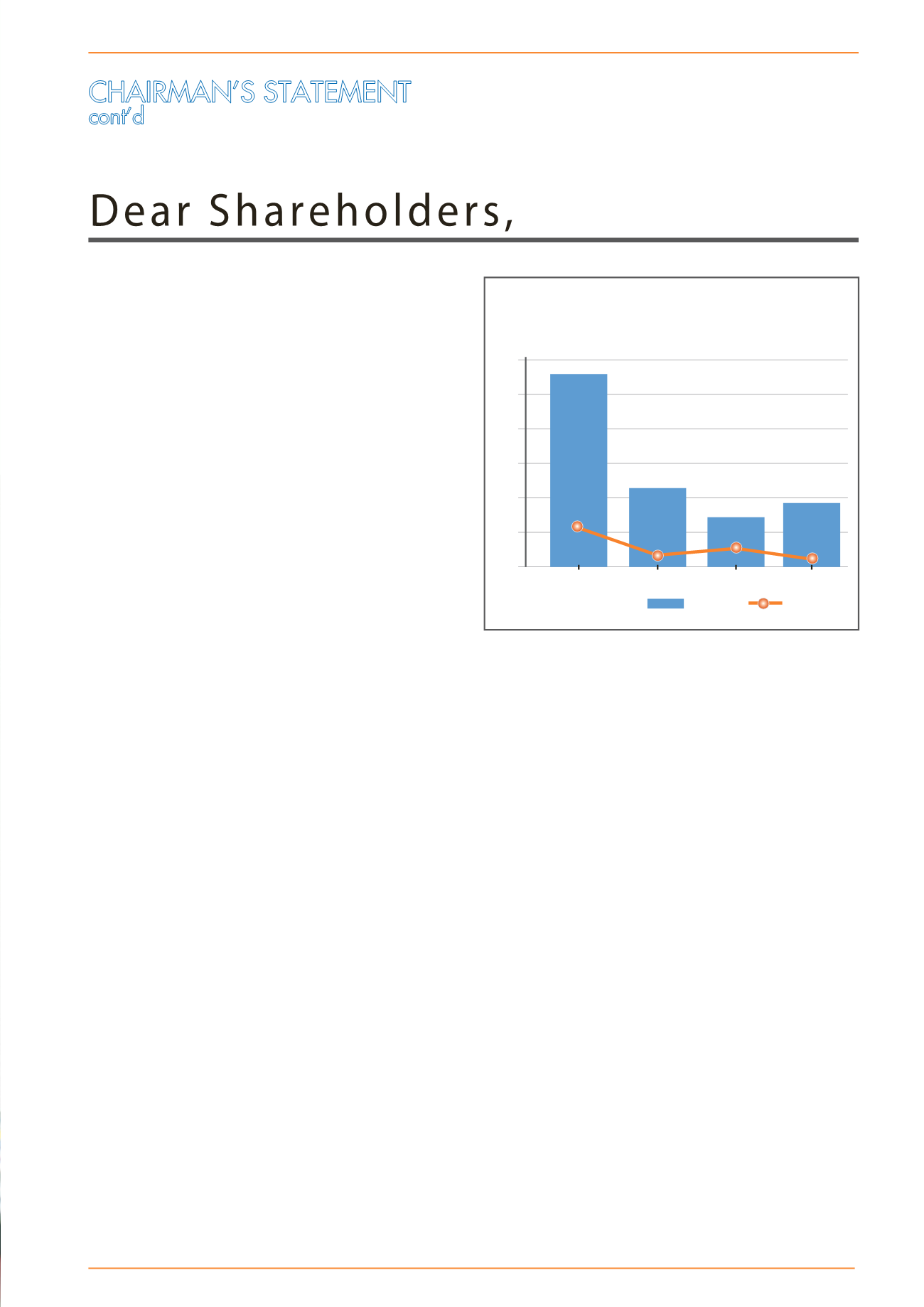 page
21
KUMPULAN FIMA BERHAD
(11817-V) |
Annual Report
2016
The Group will continue to pursue a dividend practice
that recognises the need to achieve a balance between
providing reasonable returns to shareholders whilst
conserving funds for new investment opportunities
critical to long term growth.
ACQUISITION
On 4 December 2015, the Group's subsidiary, FCB
Plantation Holdings Sdn Bhd had completed the
acquisition of 140,000 ordinary shares of RM1.00 each
in R.N.E. Plantation Sdn Bhd ("R.N.E. Plantation"),
representing 70% of the total issued and paid up
share capital of R.N.E. Plantation for a total purchase
consideration of RM4.20 million. R.N.E. Plantation
has been granted a sub-lease over a parcel of land
measuring approximately 2,000 hectares / 4,940
acres situated in Mukim Sungai Siput, Daerah Kuala
Kangsar, Perak Darul Ridzuan for a term of 60 years
with an option to renew for a further period of 30
years. The acquisition of R.N.E. Plantation is in line
with the Group's aspirations to expand its plantation
business, particularly in Malaysia, and capitalise on
the long-term fundamentals of the palm oil sector.
Bulking
Food
Revenue
PBT
Manufacturing Plantation
67.45
88.42
54.01
14.78
38.88
4.72
112.63
268.30
0
50
100
150
250
200
300
Summary of Revenue and PBT By Divisions
(RM' Million)
FINANCIAL RESULTS AND PERFORMANCE
In presenting our financial results and performance for
the financial year ended 31 March 2016 ("FYE2016"),
the Group reported consolidated revenue of RM541.11
million, representing a marginal decline of 0.7% over
last year. Profit before tax ("PBT") also decreased
to RM111.67 million compared to RM122.30 million
recorded last year. The Group's earnings before
interest, taxation, depreciation and amortisation
("EBITDA") was RM150.43 million, lower than the
EBITDA of RM 159.44 million recorded last year.
The Group's FYE2016 results reflect the challenging
market conditions across all our businesses. Despite
the higher fresh fruit bunch ("FFB") production, the
lower average Crude Palm Oil ("CPO") price realized
during the year had weighed down the earnings
contribution of the Plantation Division. We are however
encouraged by the improved profit contributions
from the Food Division, giving us cause for cautious
optimism that we can return this business to positive
levels of growth. Contributions from the Manufacturing
and Bulking Divisions have also remained steady with
modest year-on-year increase in revenue and PBT
respectively.
Earnings per share and net assets per share stood at
20.51 sen and RM2.70, respectively, from 21.26 sen
and RM2.65, respectively, the year before.
A more detailed review of the results and the operating
performance for the year of each of the Group's
business divisions is set out on pages 25 to 35 of this
Annual Report.
DIVIDEND
Reflecting on the Group's performance, the Board of
Directors is pleased to recommend for shareholders'
approval a final single-tier dividend of 9.0% for the
financial year ended 31 March 2016 at the forthcoming
Annual General Meeting.