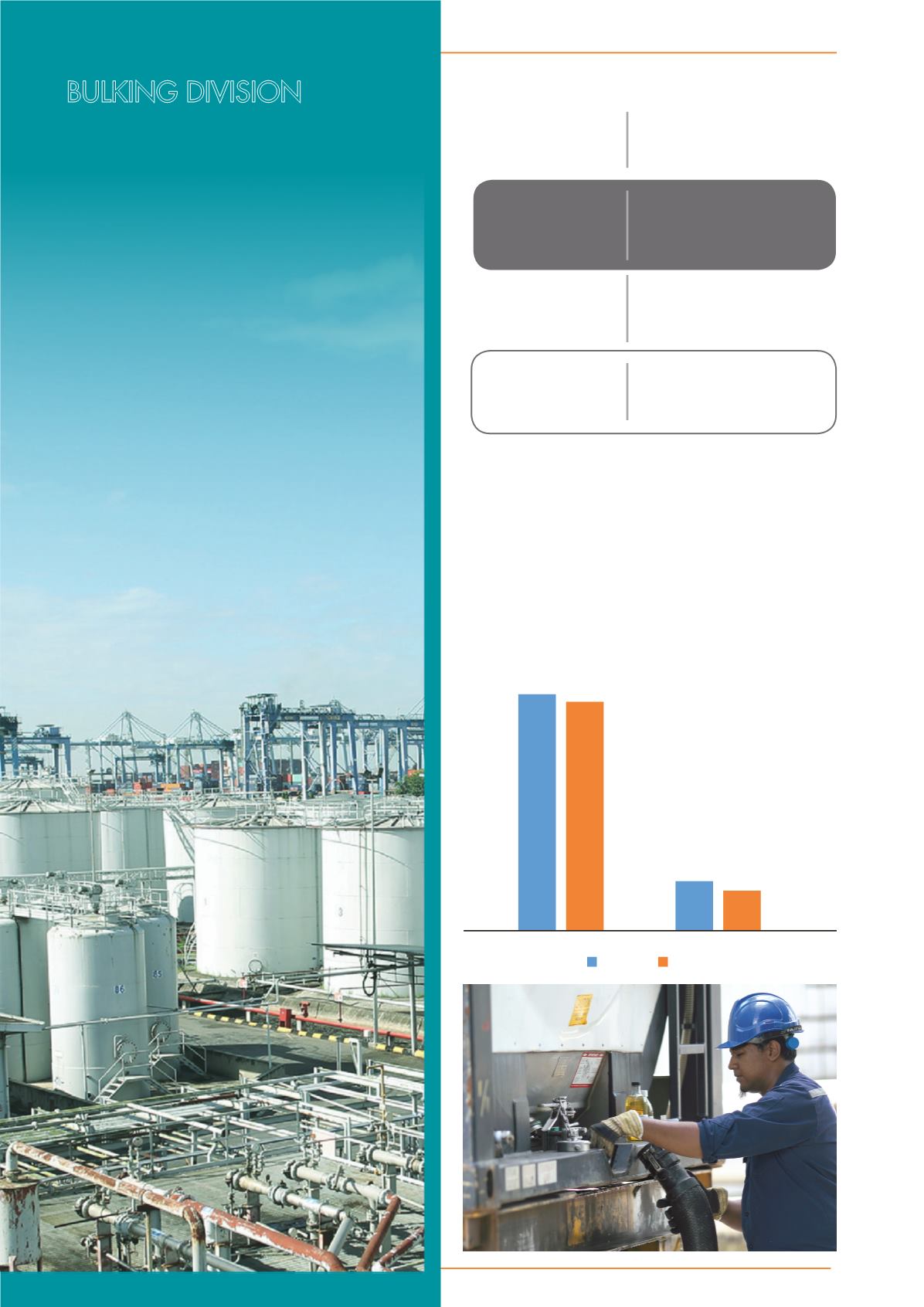 page
32
KUMPULAN FIMA BERHAD
(11817-V) |
Annual Report
2016
67.45
(RM' Million)
38.88
66.81
38.08
Revenue
PBT
2016
2015
REVENUE
Profit
Before Tax
(PBT)
MILLION
MILLION MT
RM
38.88
1.12
710,000
MT
+2.7%
+37.5%
Throughput
Volume
Edible Oil
Volume
+ 2.1%
MILLION
RM
67.45
Bulking Division reported revenue of RM67.45 million,
up 1.0% compared to last year on account of higher
contributions from the edible oil and technical fats
segments. PBT also improved 2.1% to RM38.88 million
from RM38.08 million recorded last year. Occupancy
rates remained strong, reaching an average of 83.2%
during the year. Throughput volumes were also 2.7%
higher compared to last year.
Business Overview
The Bulking Division operates five liquid
bulk terminals of which three are located
in North Port in Port Klang and two in
Butterworth. Presently, these terminals
have 271 tanks with a combined storage
tank capacity of 275,190mt and can
handle a wide range of liquid cargoes
ranging from palm oil products to
latex concentrates, oleochemicals to
specialty oils, as well as industrial
chemicals and technical fats.
These terminals also provide storage
facilities for import and export,
transhipment, containerization, local
dispatch, nitrogen blanketing and
drumming of liquid products. Other
servicesprovidedbytheBulkingDivision
include customs declaration, freight
forwarding, break-bulking, trucking and
related logistics businesses.
INCREASE
Y-o-Y
INCREASE
Y-o-Y
INCREASE
Y-o-Y
INCREASE
Y-o-Y
+1.0%
Fima Bulking Services Berhad