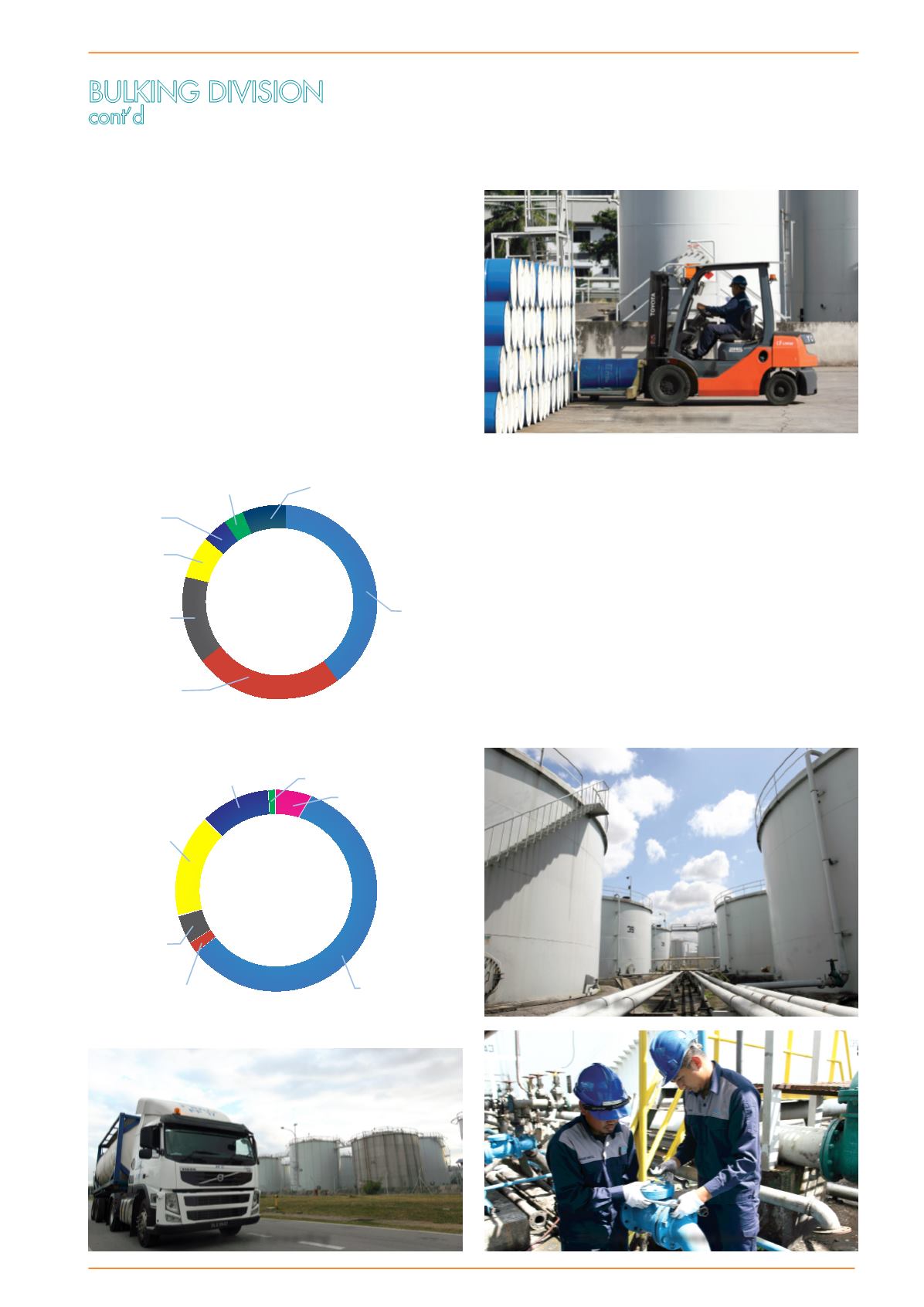 page
33
KUMPULAN FIMA BERHAD
(11817-V) |
Annual Report
2016
Revenue Contribution by Products (%)
Industrial
Chemicals
13.6
Base Oil
22.3
Technical fats
3.8
Oleochemicals
6.7
Others
11.0
Transportation
3.5
Edible Oil
39.1
Product Throughput (MT)
Industrial
Chemicals
180,543
Base Oil 120,586 Latex 11,964
Oleochemicals
17,832
Technical
Fats
47,608
Edible Oil
Products
705,372
Transportation
41,385
Sudden and sizeable fluctuations in global oil prices
have caused some of the Division's customers in the oil
and chemical based segments to maintain a cautious
approach which in turn resulted in a sharp decline in
trading volumes as well as reduction in the average
duration of storage and related services contracts.
However, the high inventory levels of palm oil recorded
during the second half of 2015 due to the low export
demand gave rise to a favourable increase in demand
for storage tanks particularly at our terminals in Penang,
thereby tempering the effects of declining oil prices.
While we do not foresee the macroeconomic conditions
to change significantly in the current year, we believe
our diversified portfolio of storage assets and facilities
is well positioned to weather the market environment.
In terms of capacity, we continued to refurbish and
upgrade our terminal infrastructure as part of an
ongoing commitment to improve the efficiency of our
facilities, enhance our product handling equipment
and continue to meet customers' needs. We also
continuously evaluate opportunities to add storage
capacity, services and increase access to our terminals
to capture new revenue streams and maintain our
competitive edge.
Freight forwarding
Fimachem terminal
Fima Bulking Services Berhad
Fima Bulking Services Berhad