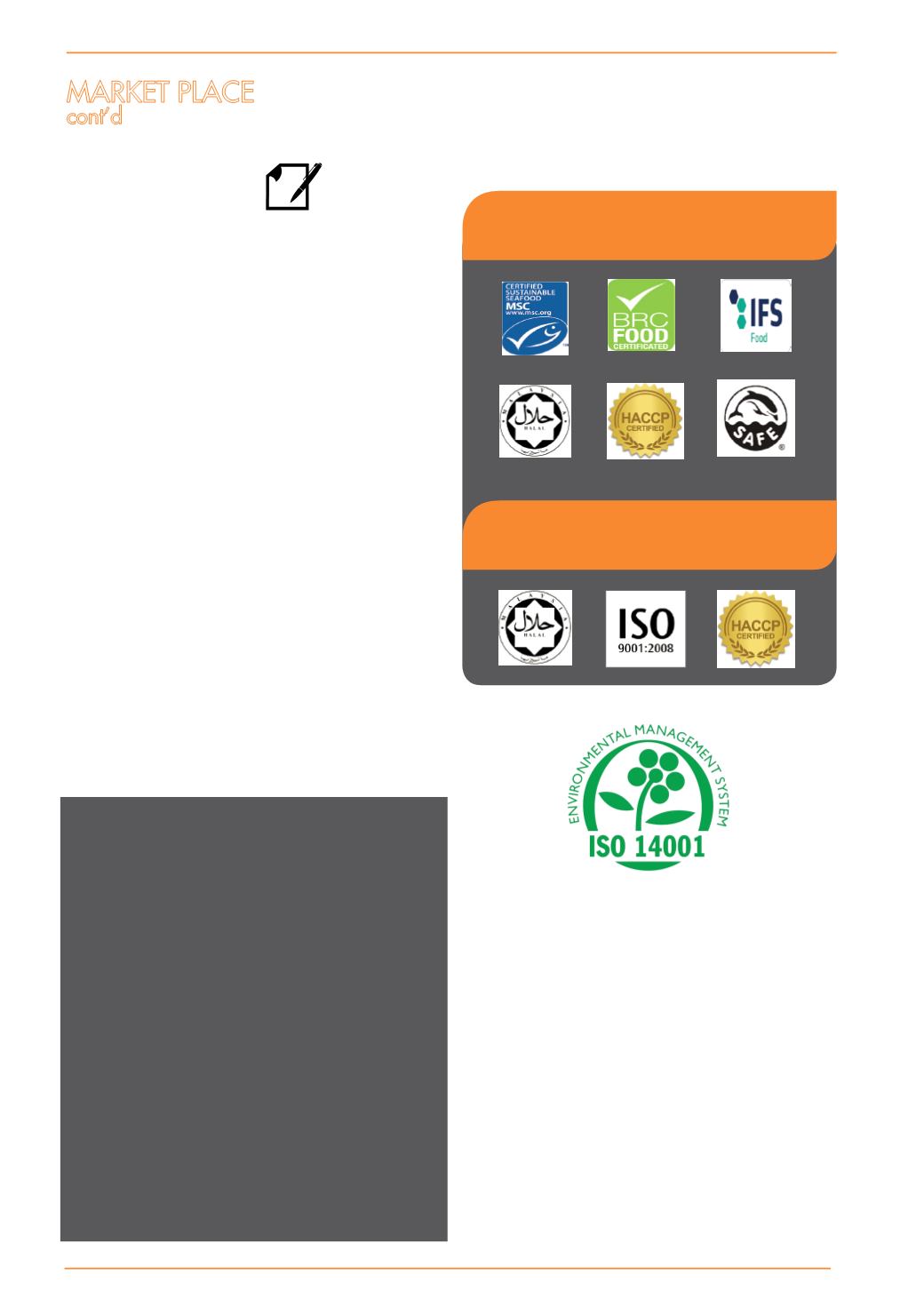 page
40
KUMPULAN FIMA BERHAD
(11817-V) |
Annual Report
2016
IFC certifications
Fima Instanco certifications
Further, the
Plantation Division's
Indonesian
subsidiary, PT Nunukan Jaya Lestari ("PTNJL")
is accredited with ISO 14001:2004 Environment
Management System for the processes employed in
the production of its CPO, CPKO and palm kernel.
The Indonesian Sustainable Palm Oil ("ISPO") audit
on PTNJL is currently on-going. The ISPO standard
includes legal, environmental, economic and social
requirements, which is based mainly on prevailing
national regulations.
The following companies within the
Bulking Division
adhere to globally recognized quality management
systems for the handling, storage and shipment of
various product categories to help maintain objective
oversight of the quality of its operations:
Quality & Standards
To maintain safety and quality, the Group stays
current with new regulations, industry best practices
and marketplace conditions and the Group's
businesses consistently strive to improve and refine
their requirements and standards throughout the
entire supply chain.
Each of our businesses have also developed and
documented policies and procedures that the business
should exercise over specified processes.
The
Food Division's
production facilities, suppliers
of ingredients and packaging materials are required
to comply with stringent international standards and
regulations, government regulations and company
policies, procedures, controls and good manufacturing
practices applicable to their operations. To ensure
compliance with these requirements, we are subject
to a number of audits and inspections. This includes
(but not limited to) audits conducted by government
and regulatory authorities such the National Fisheries
Authority of Papua New Guinea and annual audits
performed by independent third-party organizations
for the British Retail Consortium, International Food
Standard, Dolphin Safe, HACCP, GMP, Marine
Stewardship Council ("MSC") and Halal (JAKIM)
accreditations.
What Does MSC mean?
MSC stands for the Marine Stewardship Council. They
are the world's leading certification and ecolabelling
programme for environmental sustainability of wild
caught seafood. The iconic blue logo identifies all
seafood products that come from well-managed,
sustainable fisheries.
What's behind the label?
Before any seafood product can carry the MSC
ecolabel it must first adhere to three core principles.
These include:
1.
Sustainable fish stocks.
2.
Impact in the eco-system reduced to a minimum
3.
The fishery is well managed.
Also, seafood that has an MSC label is fully traceable
back to the certified fishery where it was caught.