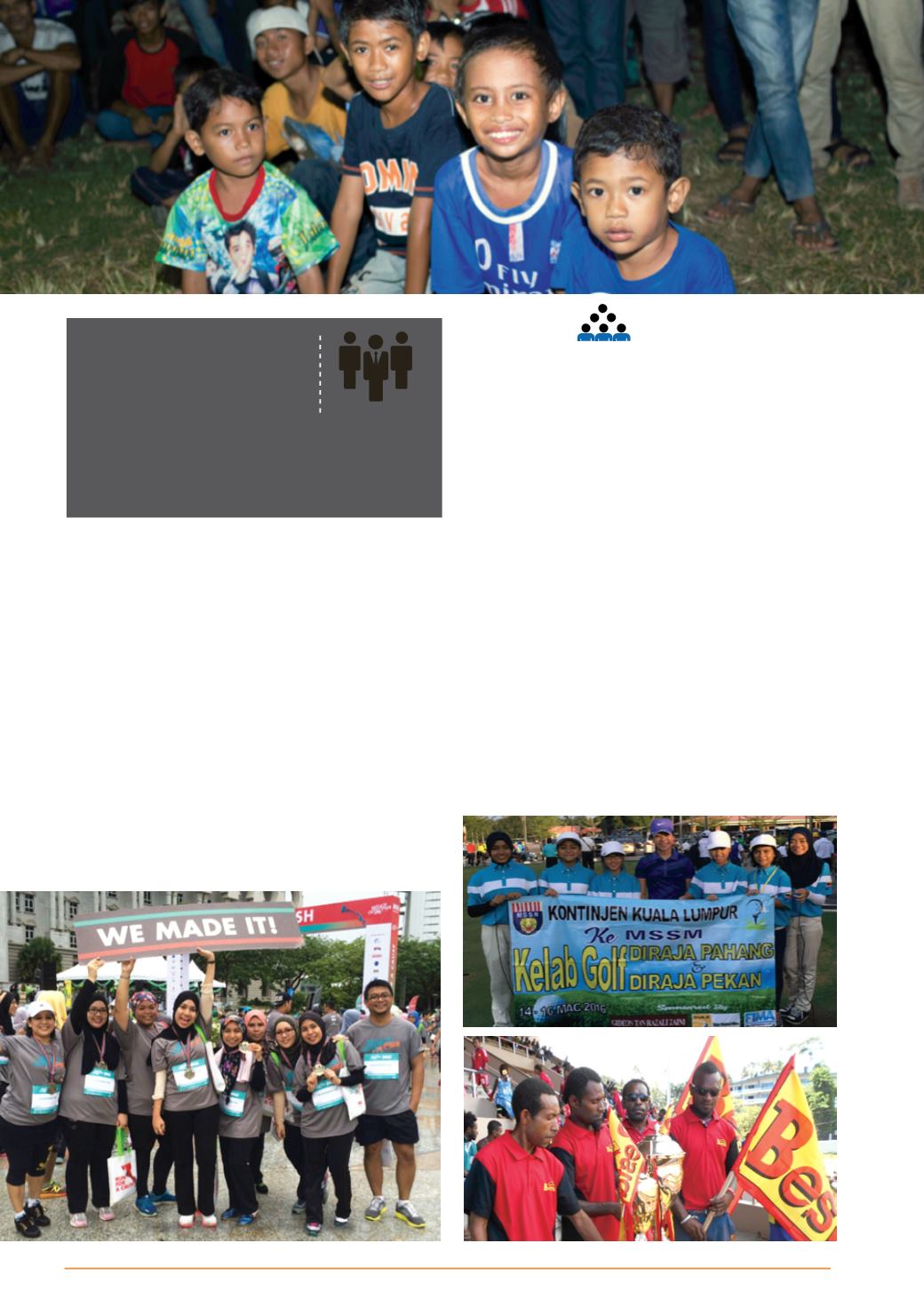 page
52
KUMPULAN FIMA BERHAD
(11817-V) |
Annual Report
2016
In our effort to strengthen the spirit of camaraderie
within the extended KFima family, we encourage
our employees to take part in numerous activities
organized by Kelab Fima such as "Tazkirah"
Ramadhan, Ramadhan Iftar function, Hari Raya
Open House and mini bowling tournament. We also
participated in the "Reach Out Run: Run For A Cause"
organized by iM4U, where 40 employees of KFima
had taken up in the run held in Putrajaya. Funds
raised therefrom will go towards supporting Dyslexia
Association of Malaysia, SVM Welfare Association,
Langkawi Animal Shelter & Sanctuary Foundation
and Yayasan Jantung Negara. Family days, weekend
retreats and festive gatherings were also regularly
organized at the divisional level.
Employee
Engagement
spent on employee activities
>RM500,000
Community
We are cognizant of our responsibility to care for
the communities in which we operate by supporting
various sporting and community programmes through
contributions in cash and kind. During the year, the main
focus areas for our community investment activities are
education, sports, youth and social welfare.
The
Food Division
continued its partnership with
the PNG Football Association and sponsorship of the
Besta FA Cup, a yearly football tournament in PNG,
to help promote and popularize football as the number
one sport throughput the country whilst at the same
time facilitate the development of a soccer programme
for youths through its affiliation with the Besta FA Cup.
The
Manufacturing Division
supported Persatuan Al-
Hunafa, a non-profit organization via sponsorship of its
Titian Samara Programme aimed at helping secondary
students with academic and social problems. The
programme currently focuses on 5 schools in the Klang
area namely, SMK Raja Lumu, SMK Pandamaran
Jaya, SMK Tengku Ampuan Jemaah, SMK Telok
Gadong and SMK Kampung Jawa.
Reach Out Run: Run For A Cause