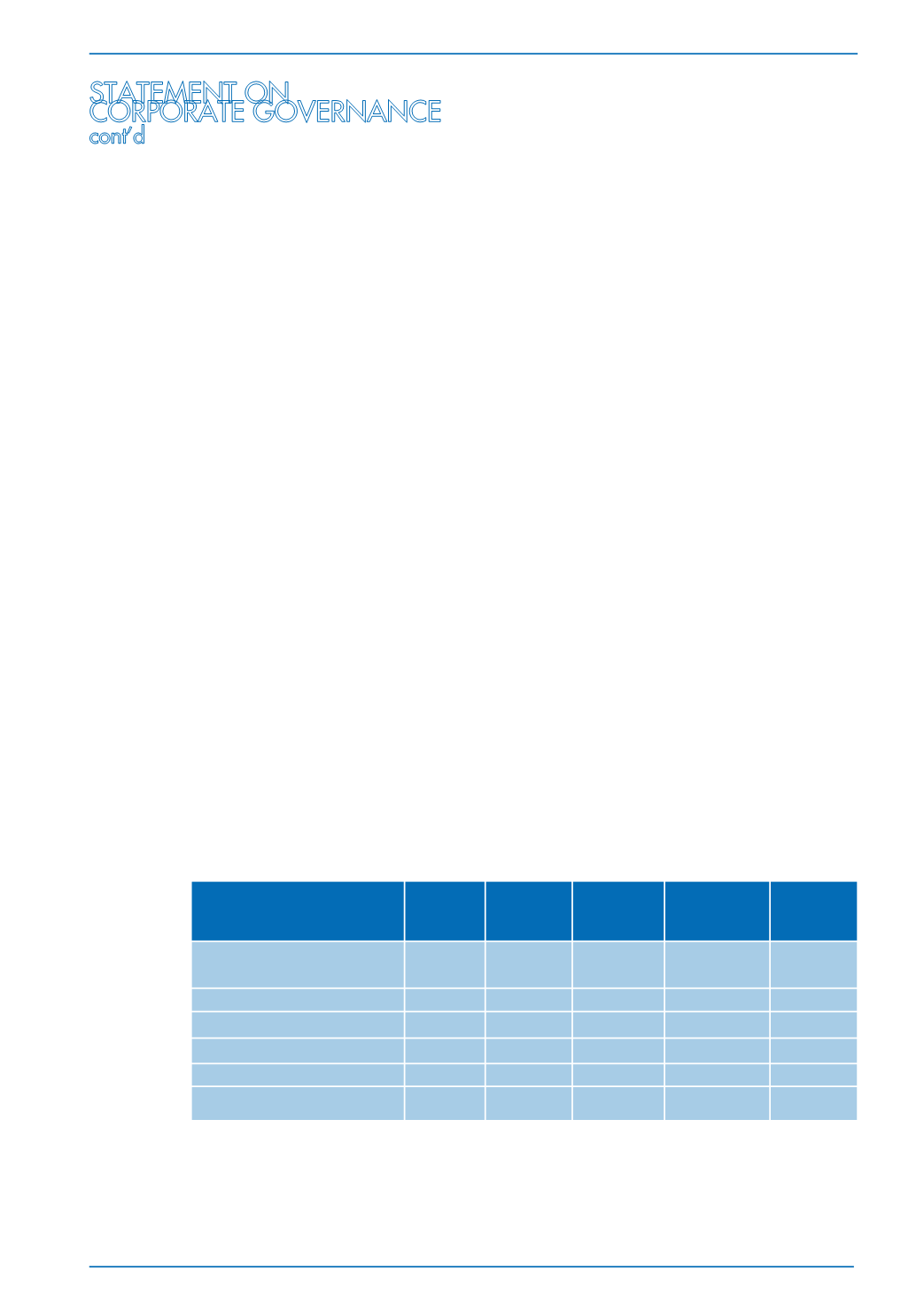 page
57
KUMPULAN FIMA BERHAD
(11817-V) |
Annual Report
2016
that they have both remain independent in character and judgment and that they are each free from
any business or other relationships which could materially impair the exercise of their independent
judgement. As such, the Company would be seeking the shareholders' approval at the coming Annual
General Meeting ("AGM") for them to continue in office as Independent Directors. The Board also
believes that there are notable benefits to be acquired from long serving Directors who possess
insightful knowledge of the Company's businesses and proceedings.
Generally and in any event, Directors must keep the Board advised, on an ongoing basis, of any interest
that could potentially conflict with those of the Company. Where a material conflict exists, the Director
concerned declares his or her interests in those dealings to the Board and takes no part in decisions or
discussions relating to them.
The justifications on the continuation of Encik Azizan and Dato' Rosman as Independent Non-Executive
Directors has been provided in the notice of AGM.
1.4 Foster Commitment of Directors
1.4.1 Time Commitment
The Board complied with the requirements of the MMLR where none of the member of the Board
holds more than five (5) directorships in listed companies. The Directors are required to disclose
and update his or her directorships in other companies or significant commitments outside the
Company as and when necessary to ensure that such appointments would not unduly affect their
time commitments and responsibilities to the Board. The list of directorships is annually tabled to
the Nomination Committee and the Board for noting. Additionally, all the Non-Executive Directors
have provided a confirmation to the Nomination Committee and the Board that they will continue
to devote sufficient time and attention to the affairs of the Company in fulfilling their duties as Non-
Executive Director of the Company.
1.4.2 Board Meetings
The Board is also satisfied that each individual Director is committed to the Board and Board
Committees by having a good meeting attendance record for the financial year under review. The
attendance of the members for Board and Committees meetings is reflected as follows:
Directors
Board
Audit
Nomination Remuneration Options
Committee Committee Committee Committee
Tan Sri Dato' Ir. Muhammad
Radzi bin Haji Mansor
6 out of 6 N/A
N/A
1 out of 1
N/A
Dato' Roslan bin Hamir
6 out of 6 N/A
N/A
N/A 1 out of 1
Azizan bin Mohd Noor
6 out of 6 5 out of 5 1 out of 1 1 out of 1
N/A
Rozana Zeti binti Basir
6 out of 6 5 out of 5 1 out of 1
N/A
N/A
Dato' Rosman bin Abdullah 6 out of 6 5 out of 5 1 out of 1 1 out of 1 1 out of 1
Rozilawati binti Haji Basir
6 out of 6 N/A
N/A
1 out of 1 1 out of 1
The Board and Board Committees meetings are scheduled in advance before the beginning of
the new financial year in order to facilitate the Board and Board Committees attendance at the
meetings. Additional meetings are convened whenever necessary to consider urgent proposals or
matters that require the Board's expeditious review and decision. Decisions can also be taken by
way of Directors' Circular Resolutions between the scheduled meetings, where appropriate.