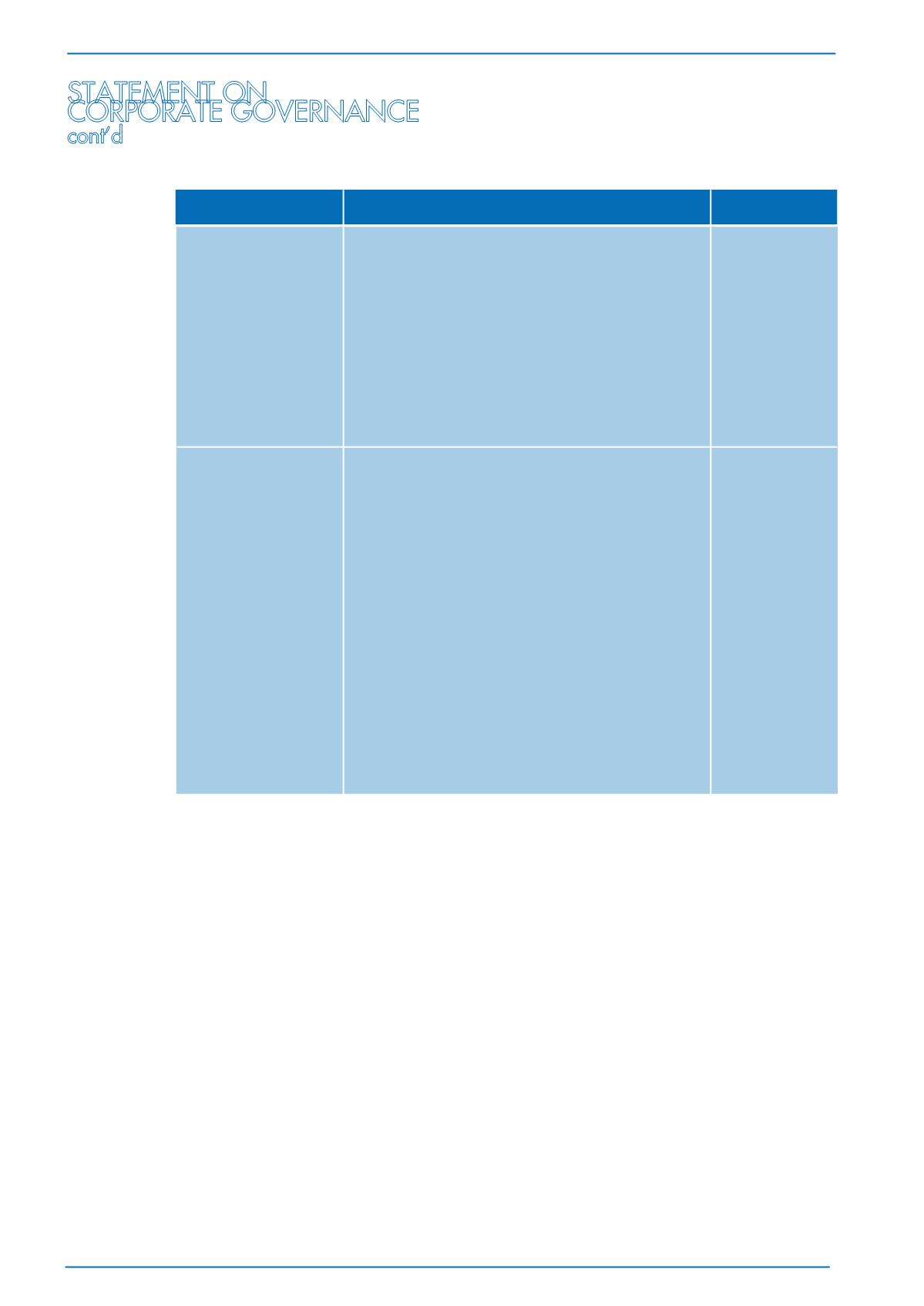 page
60
KUMPULAN FIMA BERHAD
(11817-V) |
Annual Report
2016
All training programmes attended by Directors are recorded and maintained by the Company
Secretary.
1.5 Board Performance Evaluation
The Company conducts an annual evaluation of the effectiveness of its Board and Board Committees.
The purpose of the evaluation is to measure the effectiveness of the performance of the Board and
Board Committees as well as to address the areas for improvement as part of discharging his/her role
as Director of the Company. For the financial year under review, the annual evaluation also included the
assessment of the effectiveness of the performance of Board Committees by the Board. The evaluation
process was conducted in-house by the Company Secretaries.
The evaluation is conducted by way of a detailed questionnaire completed by each of the Directors
and committee members. There is also a comments section for Directors and members of the Board
Committees to provide feedback and suggestions. The results of these evaluations are then discussed
and reviewed by the Nomination Committee and together with any recommendations, are presented to
the Board.
Director
Dato' Rosman bin
Abdullah
Rozilawati binti
Haji Basir
Training Attended
•
Enterprise Risk Management: Risk Refresher
Session for Board of Directors organized by
Columbus Advisory
•
Risk Management and Internal Control Workshop:
Is our line of defence adequate and effective?
organized by Bursa Malaysia Berhad
•
Corporate Governance Director's Workshop: The
interplay between CG, Non-Financial Information
(NFI) and investment decision organized by Bursa
Malaysia Berhad
•
World Mail Express Asia Pacific 2015 organized by
Triangle Management Services Ltd, UK
•
Post & Parcel Services Asia Pacific- Driving Global
Collabaration for the Asia Pacific Post & Parcel
Sector organized by Marketforce Business Media
Ltd, UK
•
AMEC Networking Session organized by Association
of Malaysian Express Carriers
•
'Internet of Things' Conference and Exhibition
organized by Malaysian Communications and
Multimedia Commission, University of Malaya (UM)
and ICONIX Consulting Sdn Bhd
•
Cross Border E-Commerce Conference- Driving
Export Business Through the Online Market place
organized by Ministry of International Trade &
Industry
Date Held
11/05/2015
08/09/2015
22/09/2015
19-21/10/2015
18 - 19/11/2015
03/12/2015
10/12/2015
18/01/2016