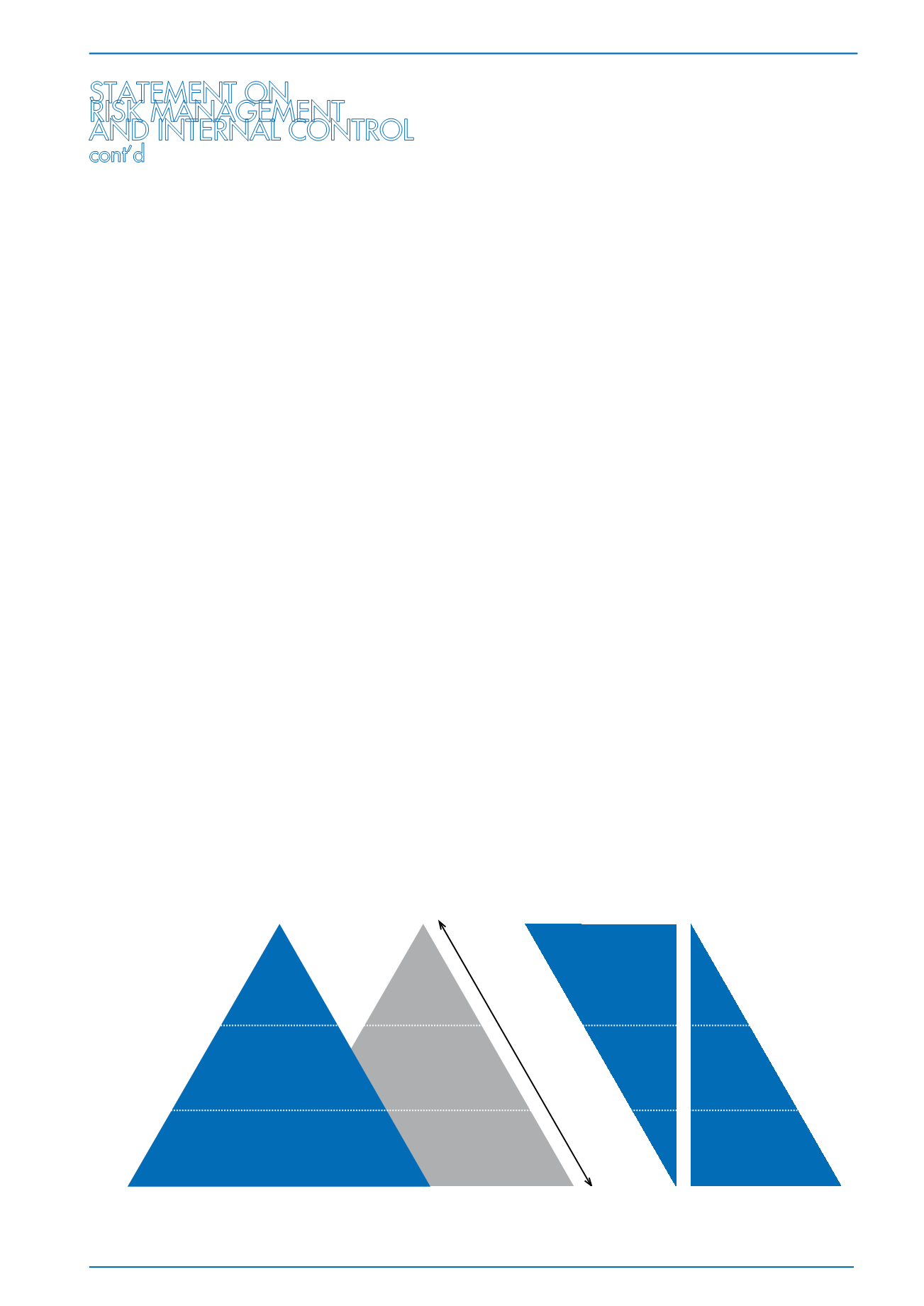 page
77
KUMPULAN FIMA BERHAD
(11817-V) |
Annual Report
2016
Risk management is regarded by the Board as an important aspect of the Group's diverse and growing
operations with the objective of maintaining a sound internal control system. To this end, the Group has
established the appropriate risk management infrastructure to ensure that the Group's assets are well-
protected and shareholders' value enhanced.
The Audit Committee and the Board is supported by a Risk Management Committee ("RMC"), headed by the
Group MD. The RMC identifies and communicates to the Audit Committee and the Board the present and
potential critical risks the Group faces, their changes and the Management action plans to manage these
risks. The RMC convenes meeting on a yearly basis to review the key risk profiles and submit a summary
report to the Audit Committee. The RMC is entrusted with the responsibility of implementing and maintaining
the ERM framework to achieve the following objectives:
•
communicate the vision, role, direction and priorities to all employees and key stakeholders;
•
identify, assess, treat, report and monitor significant risks in an effective manner;
•
enable systematic risk review and reporting on key risks, existing control measures and any proposed
action plans; and
•
create a risk-awareness culture for building the necessary knowledge for risk management at every
level of Management.
In line with the achievement of the above objectives, the RMC has undertaken the following:
•
formalisation of risk management policy and procedures and adopted a structured and systematic risk
assessment, monitoring and reporting framework; 
•
heightened risk awareness culture in the business processes through risk owners' accountability and
sign-off for action plans and continuous monitoring;
•
compilation of the business units' risk profiles in relation to the Group risk parameters, the top risks from
each business segment and reported to the RMC for review, deliberation and approval; and
•
fostered a culture of continuous improvement in risk management through risk review meetings; and
provided a system to manage the central accumulation of risk profiles data with risk significance rating
for the profiles as a tool for prioritising risk action plans.
Board of Directors retains the overall risk management responsibility in accordance with Best Practice of the
Malaysian Institute of Corporate Governance, which requires the Board to identify principal risks and ensure
the implementation of appropriate systems to manage these risks.
Divisions & SBU
(Senior Management
& Mid-Management)
BOARD
(Executive
Management)
VISION
Strategic
Objectives & Goals
Operational
Goals & Targets
ORGANISATION
HIERARCHY
BUSINESS
OBJECTIVES
HIERARCHY
ALIGNED
FRAME OF REFERENCE
EXTERNAL RISKS
INTERNAL RISKS
Operation/Functions
(Executive & Staff)