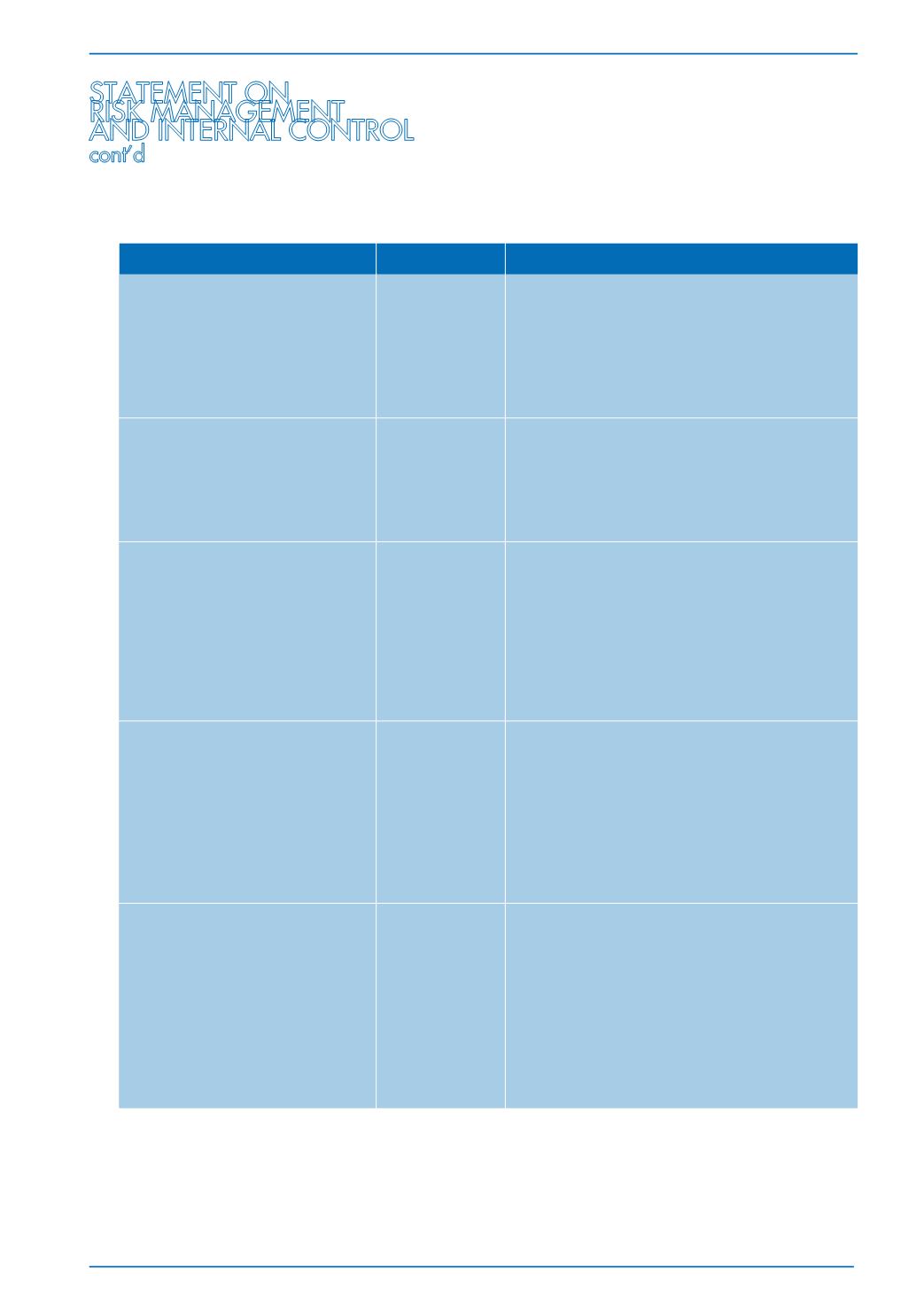 page
79
KUMPULAN FIMA BERHAD
(11817-V) |
Annual Report
2016
Operational
Global, regional and/or local
economic
slowdown
factors
adversely impact commodity prices,
customers demand and costs.
Finance
Volatile exchange rates for foreign
investment.
Human Resource
Failure to recruit and retain key staff,
and the inability to deploy staff within
the Group where they are most
needed could affect the business.
Compliance
Internal and external regulatory
requirements.
Safety, Health and Environment
Major
accident
occurs
to
employees/contractors
arising
from non-compliance with policies
and procedures leading to death or
severe injury.
Business
interruption,
pricing and
marketing.
Foreign
exchange
Succession
planning
Regulatory
Compliance of
safety, health
and environment
("SHE")
• Monitoring of market/economic conditions.
• Strategic business plan based on market
conditions.
• Key marketing strategy for each division.
• Foreign currency bank accounts.
• Exploring export markets.
• Talent management and succession planning
framework, policies and talent mobilisation.
• Revised remuneration and rewards programme.
• Annual key performance indicator and appraisal
for each personnel.
• Constant monitoring for each department, division
and Group.
• Regular review in operational audit programme.
• Continuous updating to new regulatory
requirement.
• The Safety, Health & Environment (and
Emergency Response Policies & Procedure was
established and implemented at divisional level.
• Performancemonitoring& reporting implemented.
• Regular safety training dialogues and dedicated
SHE Committee/Department.
The top five (5) risk factors of the Group after considering its likelihood and its impact from both a financial
and/or non-financial standpoint are as follows:
Broad risk area
Sub-broad risk
Key mitigation measures