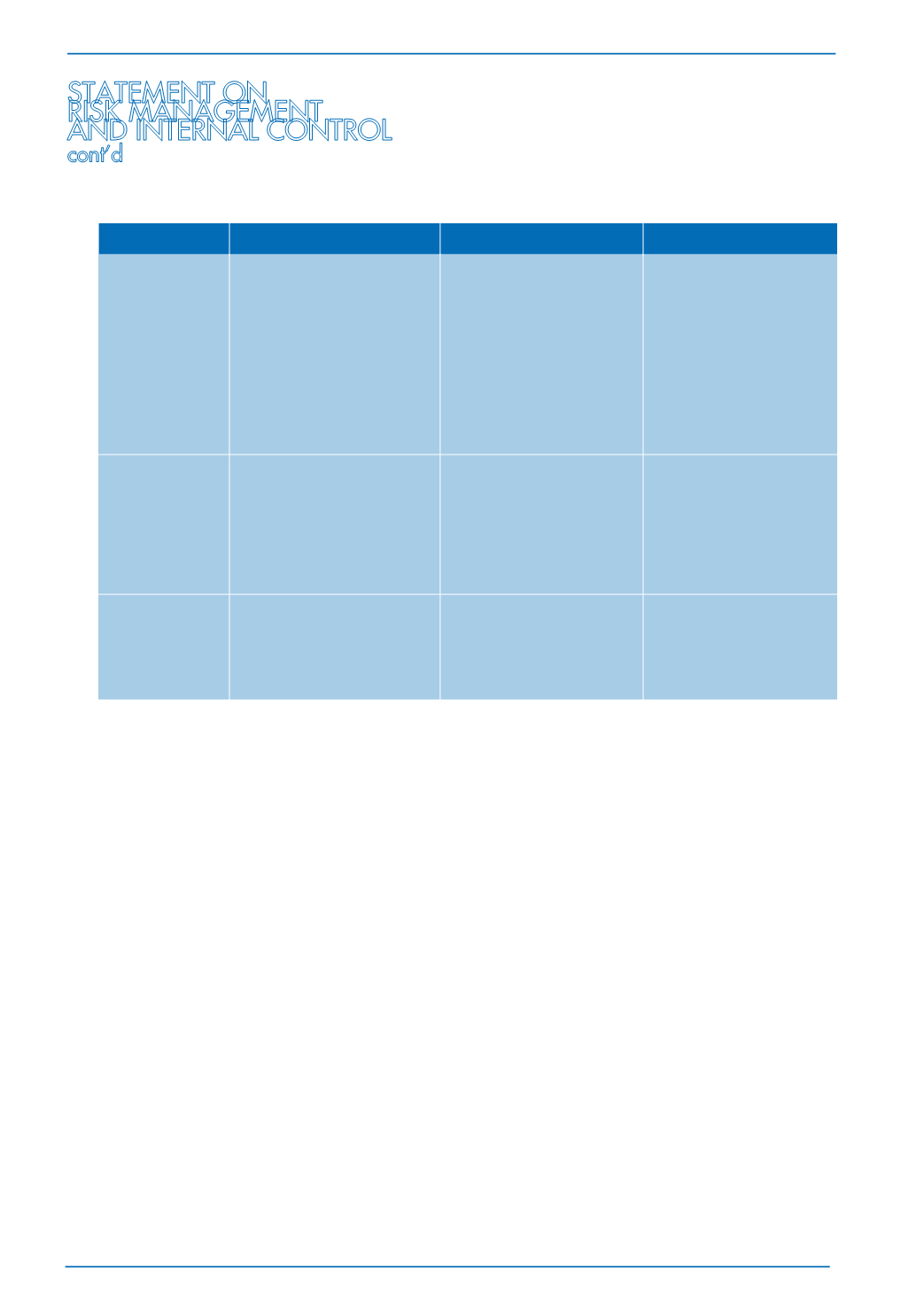 page
80
KUMPULAN FIMA BERHAD
(11817-V) |
Annual Report
2016
Framework
Exposure
Accountabilities
Strategic risks are primarily
risks caused by events that
are external to the Group,
but have a significant impact
on its strategic decisions or
activities.
Compliance of regulatory
requirements from local
and abroad which affected
the Group policies and
procedures.
Board and Group MD.
Operational risks are
inherent in the continuing
activities
within
the
different business units or
subsidiaries of the Group.
Pricing, sourcing of raw
material, dependence on
single customers and stiff
competition are the risks
facing the Group.
Heads
of
Divisions,
Department and business
units.
Financial risk is an
umbrella term for multiple
types of risk associated
with financing, including
financial
transactions
that
include
the
uncertainty of a return
and the potential for
financial loss.
The Group is exposed
to various financial risks
relating to bad debts,
liquidity, interest rates,
foreign exchange and
commodity prices.
Group
MD,
Chief
Financial Officer and
cascading to all Heads
of Business Units.
The Group's risk management context and accountability framework are expressed as follows:
Strategic risk Operational risks Financial risks
Amidst delivering growth for its stakeholders, the Group will continue its focus on sound risk assessment
practices and internal control to ensure that the Group is well equipped to manage the various challenges
arising from the dynamic business and competitive environment.
7.
REVIEW OF THE STATEMENT BY EXTERNAL AUDITORS
Pursuant to paragraph 15.23 of the Bursa Malaysia Securities Berhad's Main Market Listing Requirements,
the external auditors have reviewed this Statement for inclusion in the Annual Report for the year ended 31
March 2016 and reported to the Board that nothing has come to their attention that causes them to believe
that this Statement is inconsistent with their understanding of the process adopted by the Board in reviewing
the adequacy and integrity of the system of internal control.
This statement has been reviewed and approved by the Board of Directors on 27 June 2016.
AZIZAN BIN MOHD NOOR
Chairman of Audit Committee