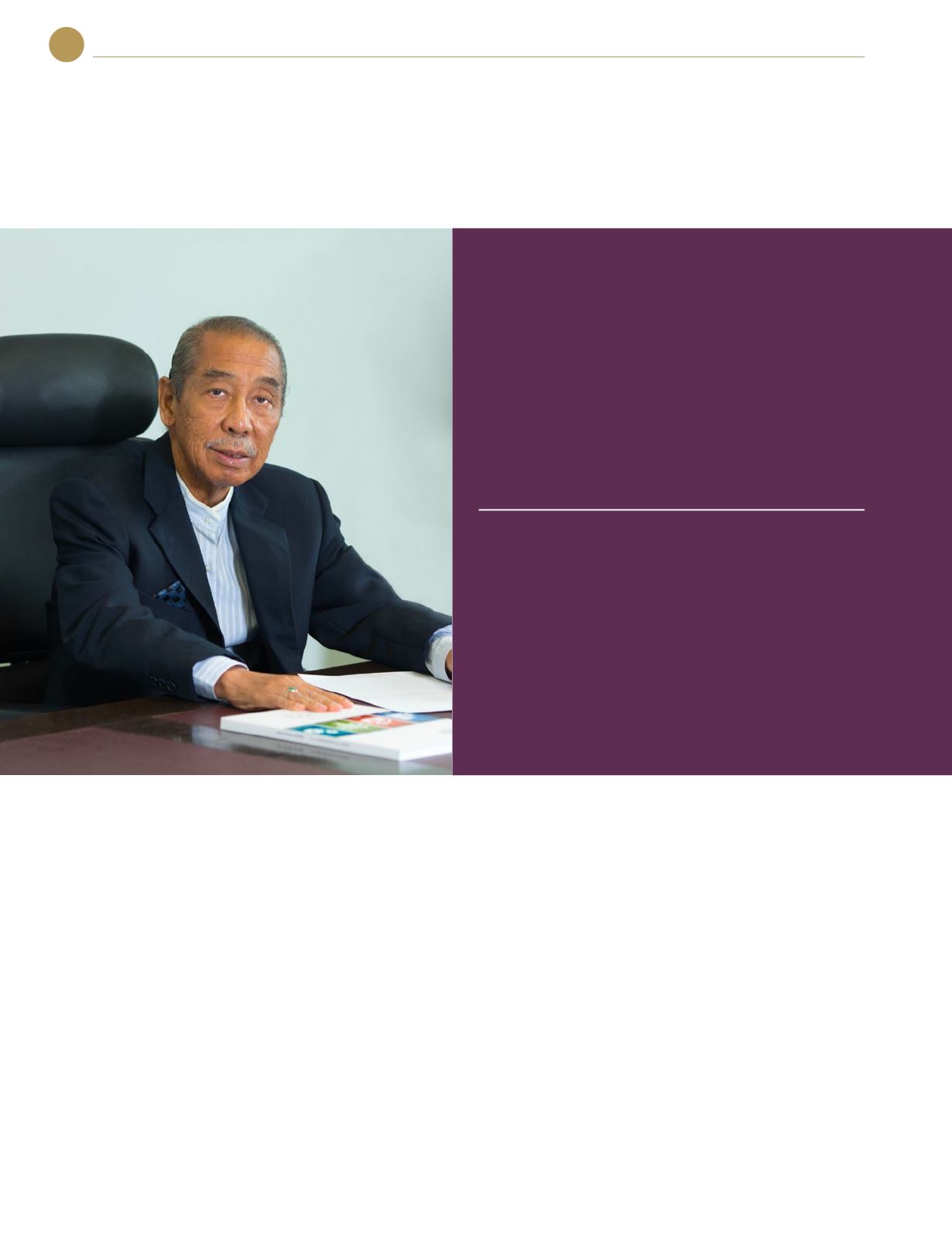 Kumpulan Fima Berhad
(11817-V)
28
CHAIRMAN'S
STATEMENT
Dear Shareholders,
FINANCIAL RESULTS AND
PERFORMANCE
For the financial year ended 31 March
2017 ("FYE2017"), the Group reported
consolidated revenue of RM547.21
million, 1.1% or RM6.10 million higher
compared to last year. However, profit
before tax ("PBT") decreased 24.2% to
RM84.67 million compared with RM111.67
million recorded last year. The marked
reduction in PBT was mainly due to
impairment losses on property, plant
and equipment and biological assets in
the Group subsidiary, PT Nunukan Jaya
Lestari ("PTNJL") totaling RM29.37 million
whichalso led to thedecline in theGroup's
earnings before interest, taxation,
depreciation and amortisation ("EBITDA")
to RM119.26 million, compared to the
EBITDA of RM150.43 million recorded last
year. Without the impairment losses, the
Group's PBT would be RM114.04 million,
an improvement of 2.1% compared to last
year.
Earnings per share and net assets per
share stood at 10.70 sen and RM2.72,
respectively, from 20.51 sen and RM2.70,
respectively, the year before.
Food and Plantation Divisions have
performed particularly well and continue
to be potentially strong growth drivers
for the Group. Contributions from
the Manufacturing Division have also
10.70
sen
+66.7%
CASH FLOW GENERATED
FROM OPERATION
Increase Y-o-Y
+2.7%
SHAREHOLDERS'
FUNDS
Increase Y-o-Y
+0.7%
NET ASSETS PER SHARE
Earnings per share
Increase Y-o-Y
remained steady. However, Bulking
Division had experienced a challenging
year amid tough trading conditions within
the industry sector. A more detailed
review of the results and the operating
performance for the year of each of the
Group's business divisions is presented
on pages 35 to 49 of this Annual Report.
FYE2017
was
characterised
by
unexpected events and challenging
trading conditions, the most notable
being the one faced by our Indonesian
subsidiary, PTNJL. In August 2016,
PTNJL was served with an order from the
Menteri Agraria dan Tata Ruang/Kepala
Badan Pertanahan Nasional revoking
PTNJL's land title Hak Guna Usaha No.
01/Nunukan Barat ("HGU") ("Ministerial