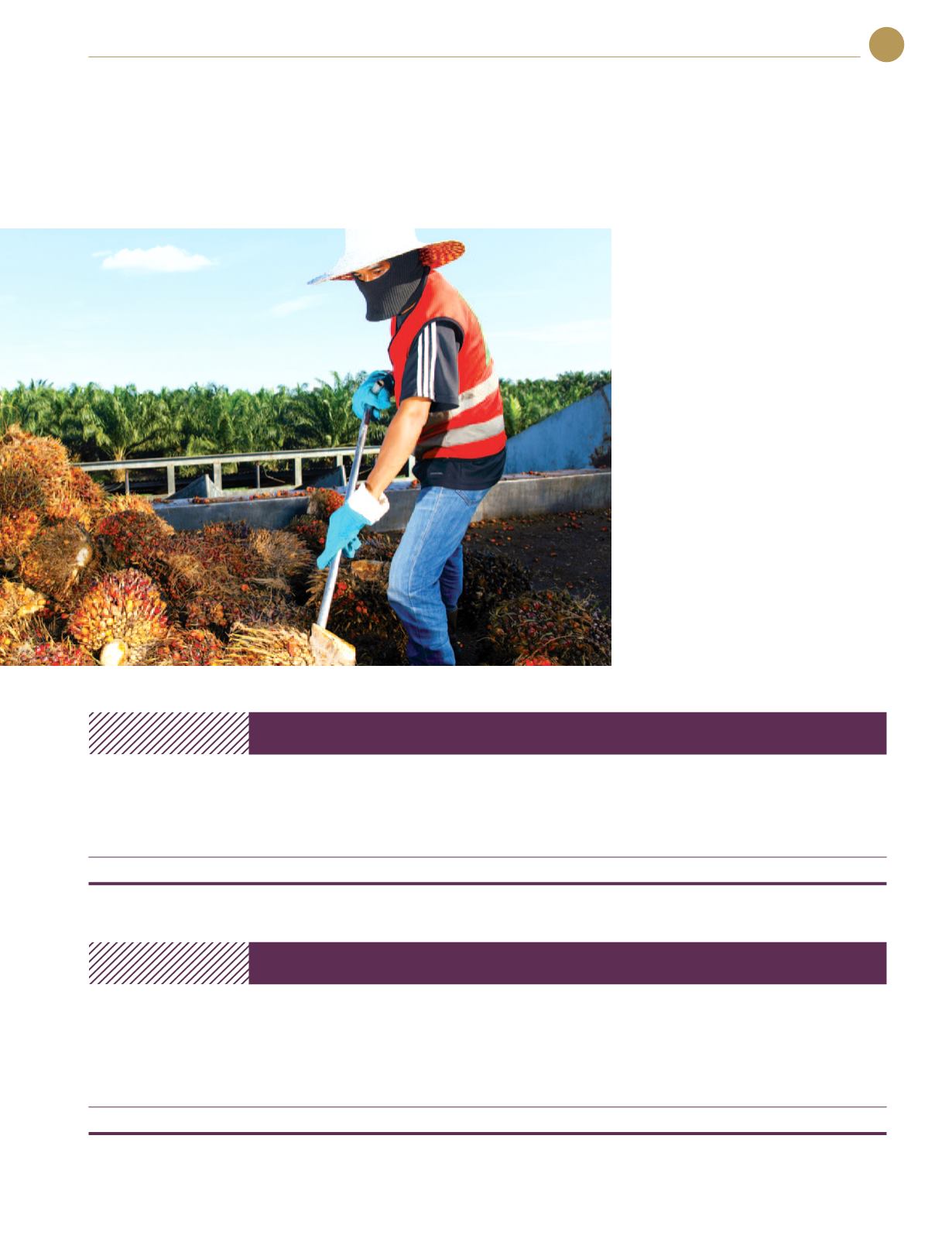 Annual Report 2017
33
MANAGEMENT DISCUSSION
AND ANALYSIS
Profitability
Profit Before Tax
("PBT") for FYE2017was
RM84.67 million compared with RM111.67
million for FYE2016, a decline of 24.2% or
RM27.00 million. The decrease in Group
PBT was mainly due to an impairment
loss amounting to RM29.37 million
related to property, plant and equipment
and biological asset. Manufacturing
Division's improved PBT was due to
lower depreciation costs and favourable
sales mix from high margin products.
Without the impairment losses, the
Group's PBT would be RM114.04 million,
an improvement of 2.1% compared to last
year.
Share of profits of associates
increased
by 71.3% to RM2.86 million compared to
RM1.67 million last year on the back of
stronger contributions from Giesecke &
Devrient Malaysia Sdn Bhd and Marushin
Canneries (Malaysia) Sdn Bhd.
Revenue
2017 Contribution
2016 Contribution
Variance
Variance
RM million
% RM million
% RM million
%
Manufacturing
233.35
42.6
266.68
49.3
(33.33)
(12.5)
Plantation
146.87
26.8
112.63
20.8
34.24
30.4
Bulking
47.46
8.7
67.45
12.5
(19.99)
(29.6)
Food
114.26
20.9
88.42
16.3
25.84
29.2
Others
5.27
1.0
5.93
1.1
(0.66)
(11.1)
Group Results
547.21
100.0
541.11
100.0
6.10
1.1
Group Profit Before Tax
2017 Contribution
2016 Contribution
Variance
Variance
RM million
% RM million
% RM million
%
Manufacturing
59.61
70.4
54.01
48.4
5.60
10.4
Plantation
(5.96)
(7.0)
14.78
13.2
(20.74)
(140.3)
Bulking
20.00
23.6
38.88
34.8
(18.88)
(48.6)
Food
6.52
7.7
4.72
4.2
1.80
38.1
Others
1.64
1.9
(2.39)
(2.1)
4.03
168.6
Associate companies
2.86
3.4
1.67
1.5
1.19
71.3
Group Profit Before Tax
84.67
100.0
111.67
100.0
(27.0)
(24.2)