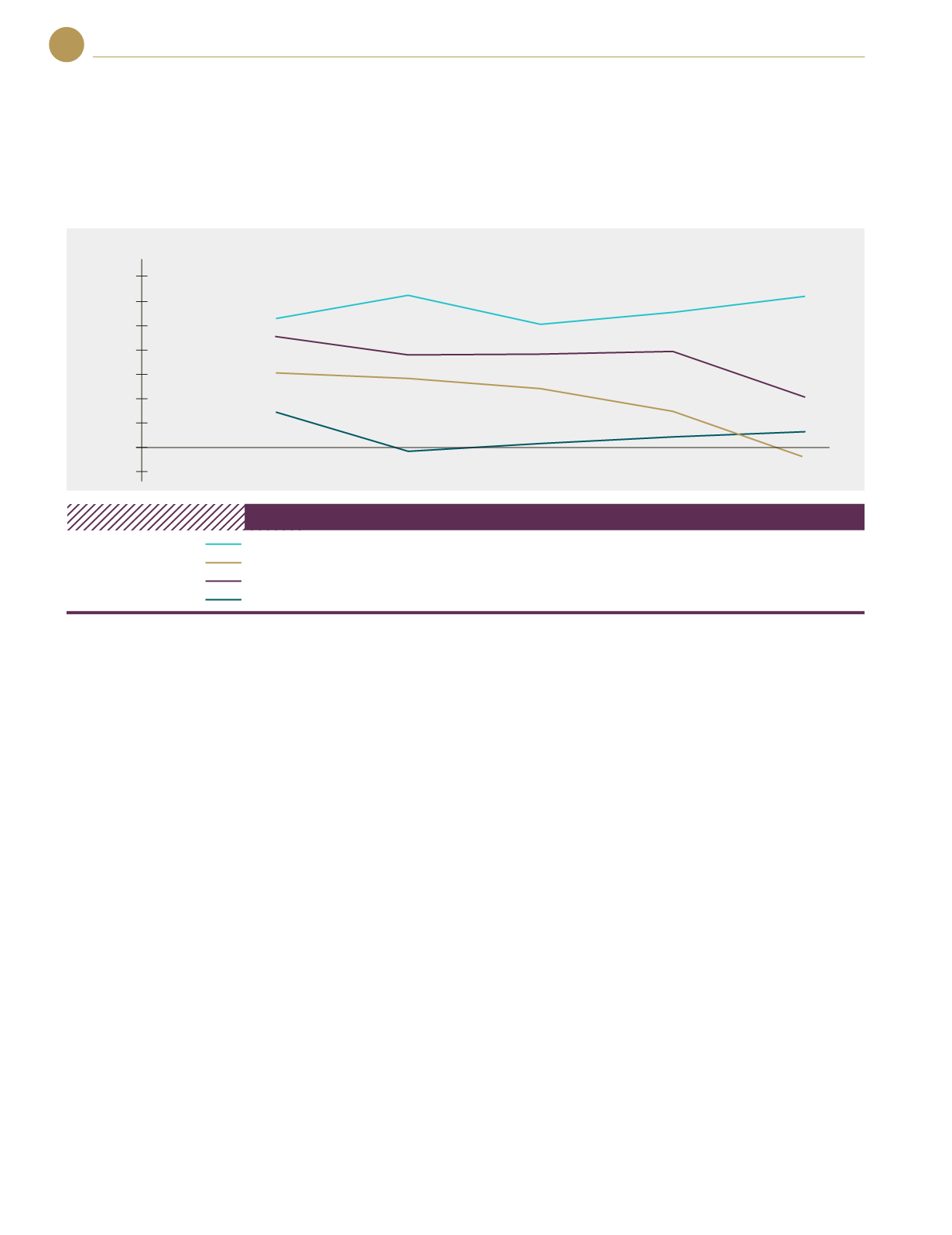 Kumpulan Fima Berhad
(11817-V)
34
MANAGEMENT DISCUSSION
AND ANALYSIS
Profit Attributable to Equity Holders
of
the Company declined 47.4% or RM26.89
million from RM56.73 million recorded in
FYE2016 to RM29.84million in FYE2017.
The marked decline was mainly due to
lower contributions from Plantation and
Bulking divisions.
Expenses and Liabilities
Cost and Expenses
before finance costs
and share of profit of associates for
the Group in FYE2017 was RM474.85
million compared with RM443.43 million
in 2016. Higher costs and expenses
were mainly due to increase in other
expenses of RM52.62 million in FYE2017
due to impairment loss compared to
RM24.02 million in previous year and
administration expenses of RM71.87
million in FYE2017 compared to RM63.54
million last year.
Total Liabilities
increased by 6.2%% to
RM197.87 million in FYE2017. The increase
was largely due to higher trade and other
payables (RM112.46 million) of which
RM84.59 million relates to the amount
payable by Manufacturing Division.
Capital Expenditure ("CAPEX")
Total Assets
increased by 3.3% to
RM1.22 billion in FYE2017, attributed
to the increases in, biological assets,
other receivables and cash and cash
equivalents
.
For FYE2017, the Group incurred a total
of RM44.49 million for CAPEX comprising
of biological assets expenditure
(RM30.23 million) and property, plant &
equipment (RM14.26 million). The Group
retains strong discipline on CAPEX,
with generally conservative business
considerations and realistic benchmarks
used to commensurate with the nature
and risks of the activity or project.
Liquidity and Capital Resources
The Group's cash and cash equivalents
increased to RM367.78 million as at 31
March 2017 compared to RM247.59
million last year. Net operating cash flow
generated in FYE2017 totaled RM192.97
million against RM107.88 million recorded
last year.
The Group finances its operations
through cash generated from operations
and a mix of short-term bank credit
facilities. This provides the Group with a
balanced range of funding sources.
On the basis of our current cash,
cash equivalents, and other financial
resources, the ability to generate cash
from operations, we believe we have the
capital resources and liquidity necessary
to meet our commitments, support
operations, finance capital expenditures,
support growth strategies and fund
declared dividends.
Shareholders' Equity
stood at RM1.03
billion, up 2.7 % over the last year due
to increase in the Group's retained
earnings.
Return on Equity ("ROAE")
declined to
5.0% in FYE2017 from 8.1% recorded in
the previous financial year in tandem
with the decrease in net earnings.
Return on Capital Employed ("ROACE")
declined by 25.7% to 8.0% in FYE2017.
Division PBT Performance 2013-2017 (RM million)
2013
2014
2015
2016
2017
Manufacturing
53.15
63.39
50.54
54.01
59.61
Plantation
30.56
27.33
24.73
14.78
(5.96)
Bulking
42.81
37.28
38.08
38.88
20.00
Food
14.32
(3.44)
0.28
4.72
6.52
70
60
50
40
30
20
10
0
-10
2017
2016
2015
2014
2013