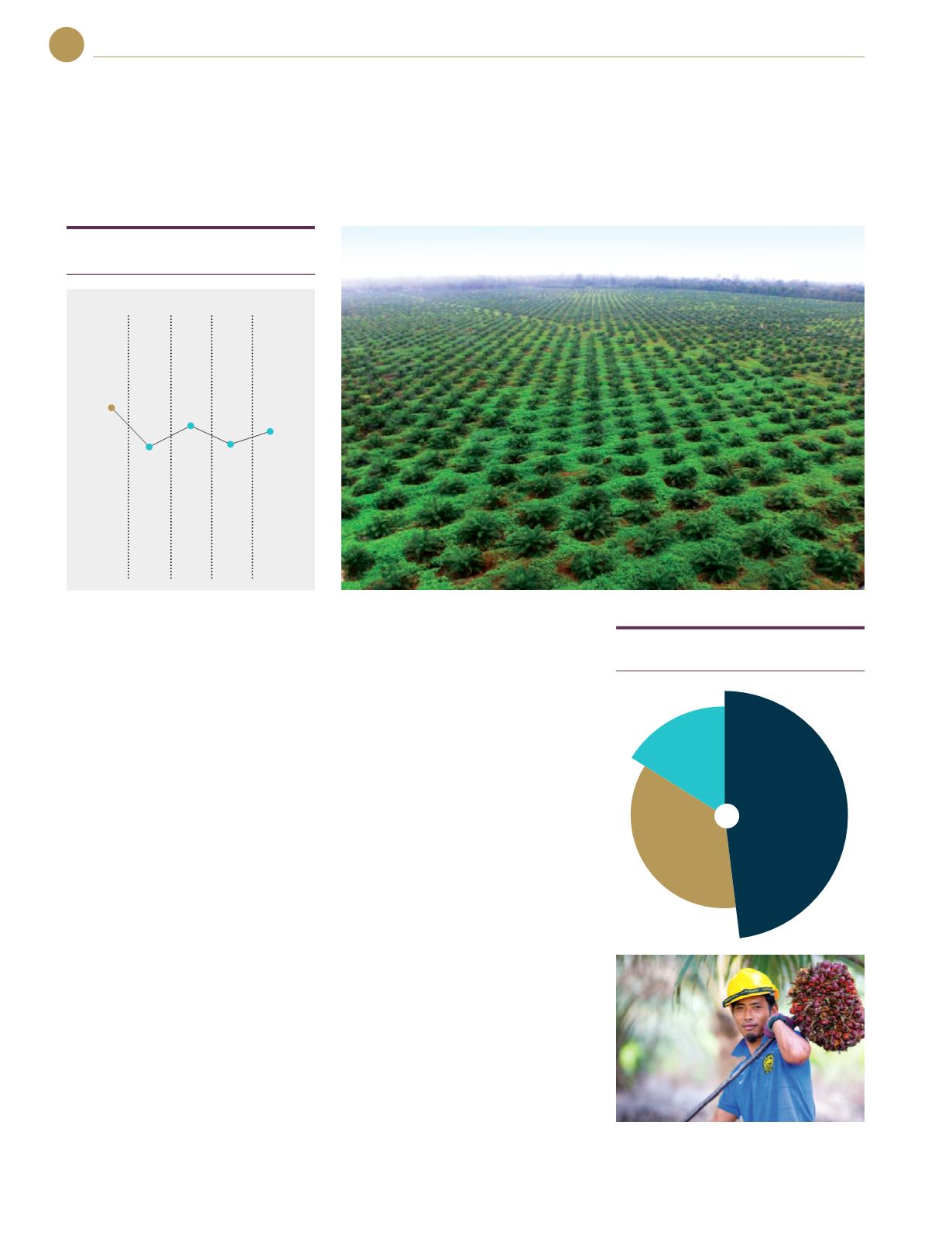 Kumpulan Fima Berhad
(11817-V)
40
PLANTATION
DIVISION
planted area
(ha)
(RM)
6,379.7
2,114.0
4,713.8
indonesia
peninsula
malaysia
sarawak
Estate Operations
During FYE2017, the Division spent
RM14.23 million on CAPEX, largely
towards plantation development works
and
construction/refurbishment
of
workers' quarters.
Indonesia
Notwithstanding the on-going legal
suit, PTNJL has been allowed by
the local government in Kabupaten
Nunukan to continue to operate its
plantation operations until the final
determination of by the courts. PTNJL's
planted area affected by the Ministerial
Order measures approximately 3,691.9
hectares. To-date, there has not been
any disruption to PTNJL's business and
operations.
Malaysia
The Group's estate in Miri, Sarawak
has concluded its planting programme.
Approximately 473.79 hectares have
attained maturity, and the estate's mature
hectarage is expected to increase to 1,345
hectares in 2018. Now that the estate has
been fully cultivated, management will
maintain its focus on maximizing yields
and bringing field standards up to the
highest levels. The planned Miri palm oil
mill project has been deferred following
an internal review and discussions with
our joint venture partners. The project
would be revived once the estate's yield
performance achieves satisfactory levels
and market conditions improve. In the
meantime, crops harvested from the
estate are sent to a nearby third-party
mill for processing.
The planting programme at Ladang
Cendana in Kemaman, Terengganu has
been completed, and harvesting of the
first plantings had commenced in April
2017. As at 31 March 2017, approximately
760.1 hectares have been planted.
Meanwhile, planting and development
at our greenfield estates in Kelantan
have been progressing well with 110.0
hectares and 230.7 hectares planted at
average cpo price realised
2017
2016
2013
2015 2014
2,625
2,064
2,207
2,068
2,155