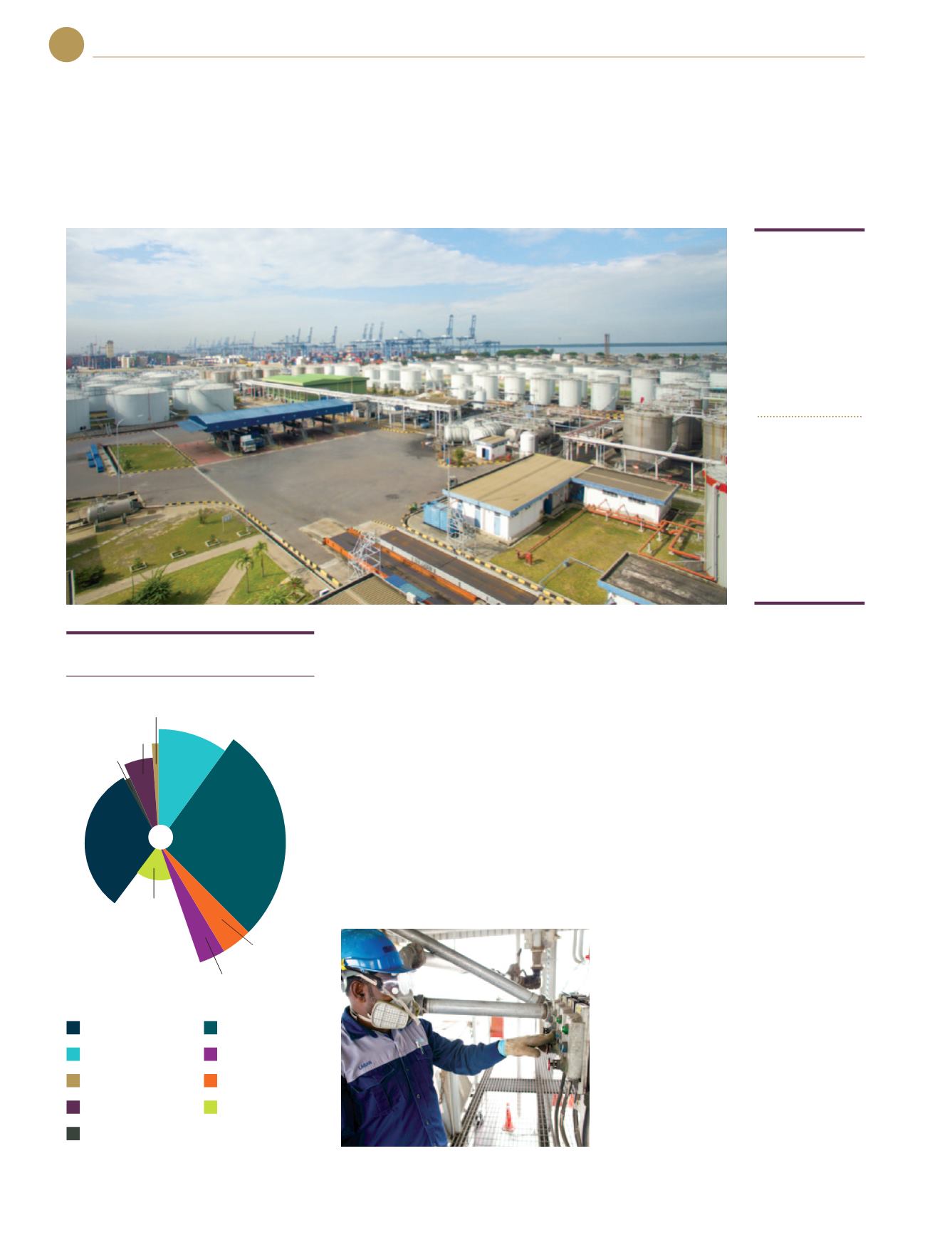 Kumpulan Fima Berhad
(11817-V)
44
Contributing
8.7%
of total
group Revenue
Contributing
23.6%
of total
group PBT
BULKING
DIVISION
Bulking Division posted revenue
of RM47.46 million, down 29.6%
compared to last year on account of
lower contributions from the edible
oil, oleochemicals, technical fats and
industrial chemicals sub-segments. In
tandem, PBT declined 48.6% to RM20.00
million from RM38.88 million recorded
last year. The average occupancy
rate was lower at 52.0% during the
year compared to 83.2% last year.
Throughput volumes were also 33.2%
lower compared to last year, due in large
part to the sharp decline in the edible oils
sub-segment.
The Division had been severely impacted
by the effects of low CPO production
during the year, which led to low palm
oil inventories, fewer MDEX tenders
and reduced demand for the Division's
service offerings. The demand weakness
is further exacerbated by intense
competition between terminals, as the
decrease in overall throughput had
created excess capacity for all players.
On a more positive note, the decline
in the edible oils storage sub-segment
was offset by the buoyed demand in the
base oil and latex sub-segments whose
throughput grew 28.0% and 40.5%
respectively y-o-y.
After taking into account the current low
throughput levels and port operational
requirements, the Division has decided
to put on hold the planned capacity
expansion project at North Port. We
will review this decision once market
conditions improve.
revenue contribution by products
(%)
Edible Oil
Misc Income
Freight Forwarding
Transportation
Latex
Base Oil
Industrial
Chemicals
Technical Fats
Oleochemicals
27.7%
10.0%
31.8%
1.1%
5.4%
1.4%
15.5%
3.9%
3.2%