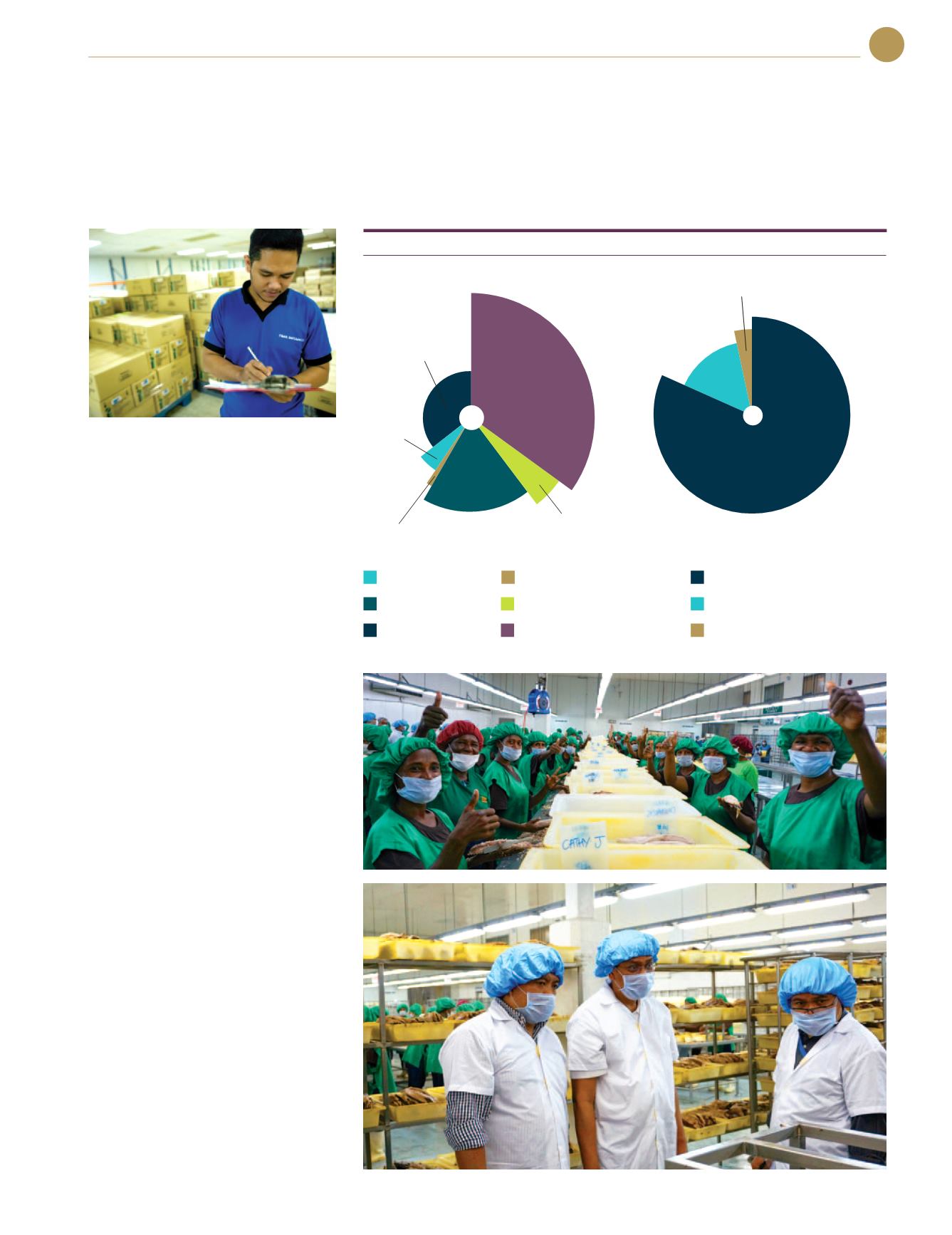 Annual Report 2017
49
revenue contribution by categories (%)
15.1%
4.9%
4.6%
1.2%
3.1%
81.8%
35.2%
18.6%
FOOD
DIVISION
Non-Dairy
Creamer
Brown Sugar
Pepper
Others
Salt
Client/3
rd
Party Brands
In-House Brands
Others
White Sugar
note, the Division is staunchly committed
to the sustainability agenda and is
pursuing strategic alliances with its raw
material suppliers and fishing companies
to gain additional advantage and ensure
sustainability of supply.
Our food packing subsidiary, Fima
Instanco Sdn Bhd ("FISB") has continued
to deliver revenue and PBT growth,
driven by improved sales volumes
supported by a sustained focus on cost
management practices. Moving forward,
FISB plans to diversify its revenue base to
include sale and distribution of consumer
products and entering into new markets.
It is hoped that the resulting scale, as well
as strengthened product and service
offerings, will culminate in a stronger and
more robust business performance for
FISB.
The Division will also continue its
focus on strengthening sales volume
and earnings growth by improving the
Division's core product offerings and
introducing new products that align
with emerging consumer trends and
preferences while maintaining product
quality and affordability. In PNG, we also
remain active and respond to any trade
measures on fish, particularly tuna, and
support the PNG government's initiatives
to protect local businesses from export-
dumping activities. The Division expects
the flattish demand for IFC's canned
mackerel products will continue in
this current year but is optimistic that
sales from new and improved product
offerings can mitigate this decline.
35.5%