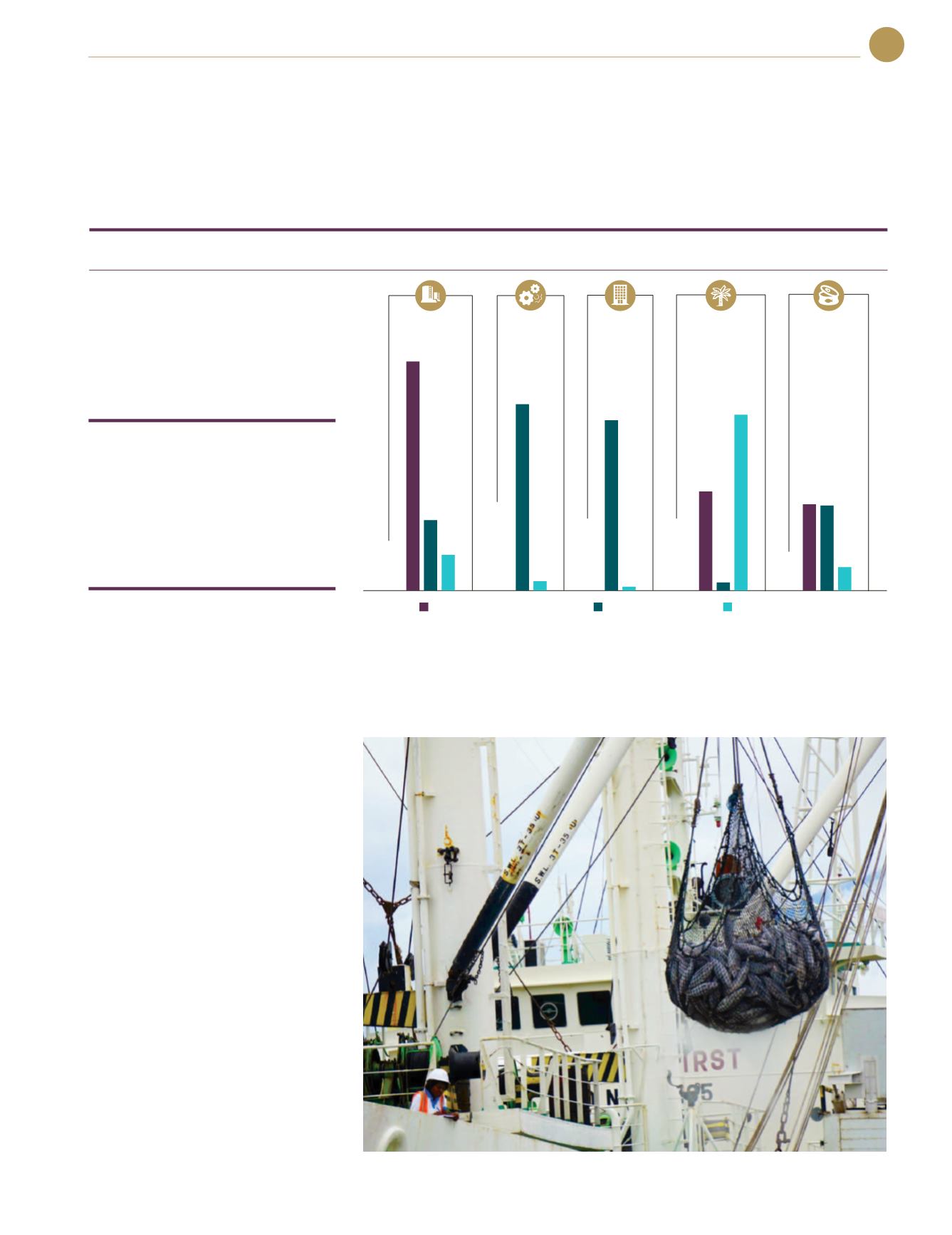 Annual Report 2017
61
overall co
2
e by division
(MT)
Station Combustion
Electricity
Transportation
15,415
t
CO
2
e
Total Group CO
2
Emission
plantation
932.56
1,602.39
50.67
food
370.74
370.58
107.64
head office
1,577.80
13.61
bulking
5,417.27
1,271.91
710.36
manufacturing
47.79
2,941.86
6,315,906
k
W
h
Total Group Energy Consumed
RESPONSIBLY SOURCED
SEAFOOD
The
Food Division
believes ocean
sustainability is important. The Division's
PNG subsidiary, IFC, responsibly sources
their fish supply to support and ensure the
long-term sustainability and conservation
of fish resources. Sustainability and
traceability is high on IFC's agenda when
making purchase decisions.
All of the tuna that IFC purchases are
caught by purse seine fishing. Purse
seine fishing is among the more efficient
methods of catching tuna as the amount
of bycatch is minimal compared to other
fishing methods. The majority of the tuna
that IFC buys is skipjack and yellowfin
which is widely considered to be highly
fertile and abundant. Moreover, tuna
fishery in PNG is managed under the
National Tuna Fishery Management
Plan, which regulates among others
total allowable catches of tuna thereby
maintaining sustainable stock levels.
Moving forward, IFC intends to source
SUSTAINABILITY
REPORT 2017
more FAD-free tuna, i.e. tuna caught
without the use of fish aggregating
devices. IFC also works closely with
their suppliers to ensure that the tuna
they procure and process do not contain
those which are illegal, unreported and
unregulated ("IUU"). During FYE2017, IFC
did not incur any IUU-related violations.