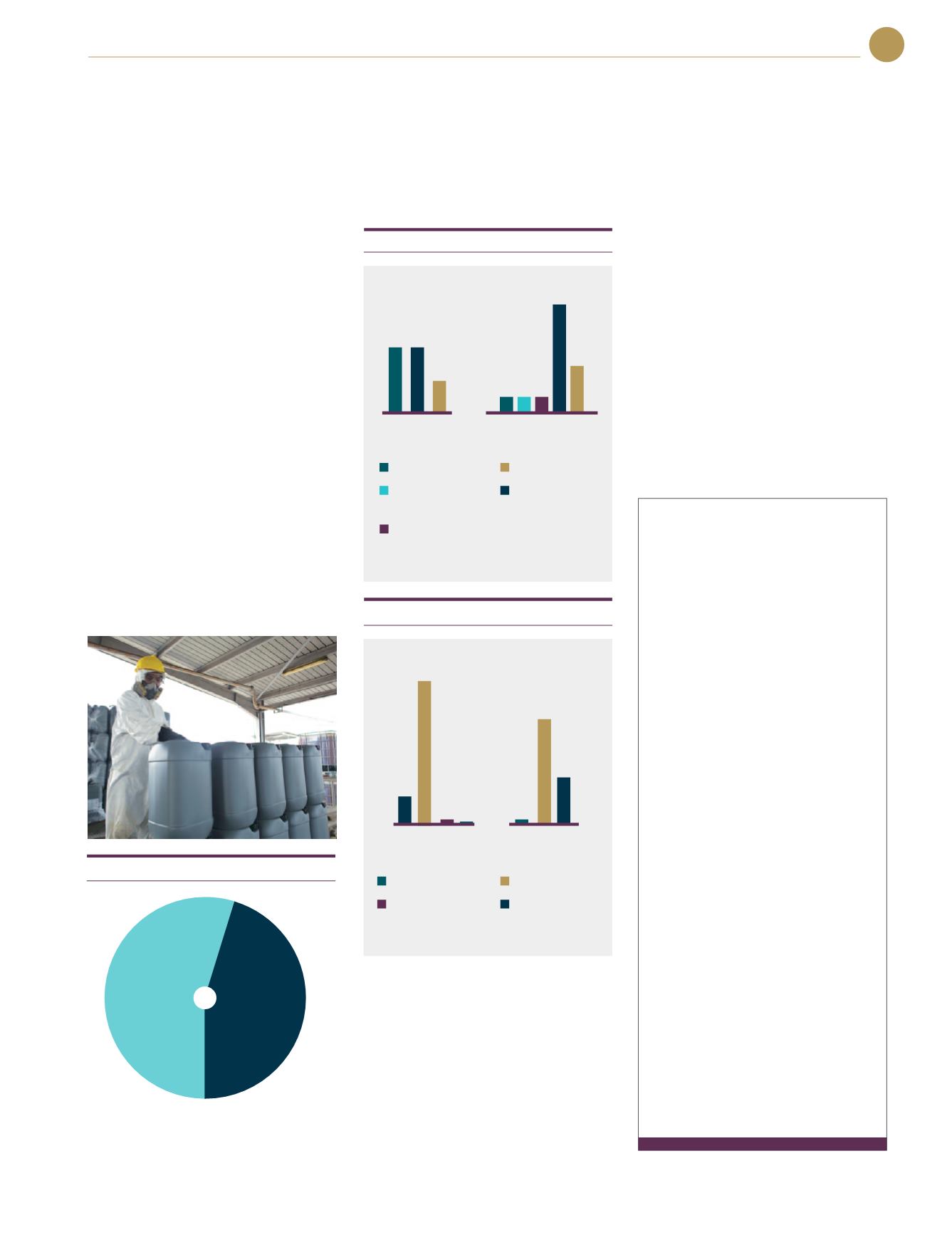 Annual Report 2017
63
total number of recorded injuries
88
98
FYE2016
FYE2017
EMERGENCY PREPAREDNESS
Emergency
preparedness
is
an
important aspect within our operations,
thus our facilities are equipped with
first-aid kits, firefighting systems and
have in place adequate response plans,
spill prevention and other programs to
respond to emergencies.
During the year, the Group did not incur
any fines or sanctions for non-compliance
with environmental laws or regulations.
Major Injury:
Any incidences resulting
in disability, medical treatment and lost
time of more than 1 full working day
Minor Injury:
Any incidences resulting
in only first aid and/or no significant lost
time with immediate continuation of work
Near Misses:
These incidences have
been excluded
major injuries by type
minor injuries by type
Physical Hazard
Physical Hazard
Falling & Flying
Objects
Chemical/
Biohazard
Chemical/
Biohazard
Tools Hazard
Logistical
Hazard
Tools Hazard
Logistical
Hazard
The indicators help us to track the
effectiveness of measures taken to
improve safety and health performance
in all business divisions. In addition, it
helps the Group to identify the most
useful preventive action.
We are pleased to report that the number
of major injuries has decreased by 23%,
from 13 incidences in FYE2016 to 10
incidences in FYE2017. However, an
increase in the number of minor injuries
from 75 to 88 has adversely impacted
on our frequency rate this year to 12.35
from 10.21 last year. The total number
of recorded injuries increased by 11% to
98 compared to the previous year. Most
incidences this year are represented
by minor injuries related to tools and
logistical hazards at our Indonesian
estate.
FYE2017
4 4
2
FYE2016
7
1 1 1
3
OIL SPILL INCIDENT
In May 2016, the Bulking
Division's Butterworth terminal
experienced an accidental
spillage of 0.4 MT onto the shore
during aCPO transfer operation.
The spill was promptly cleaned
up by the Division's response
team and no damage to the
shores was found.
The
incident
was
duly
reported to the Department
of
Environment
and
no
legal sanction or penalty
was imposed. Subsequent
investigation by the terminal
revealed the root cause to
be human error. Corrective
and preventive actions have
since been taken, including
modifications to certain work
protocols to avoid future
recurrence.
This was the only oil spill
incident in the Group during the
year under review.
23%
Y-O-Y reduction
in major injuries
SUSTAINABILITY
REPORT 2017
69
15
3 1
FYE2017
3
47
25
FYE2016