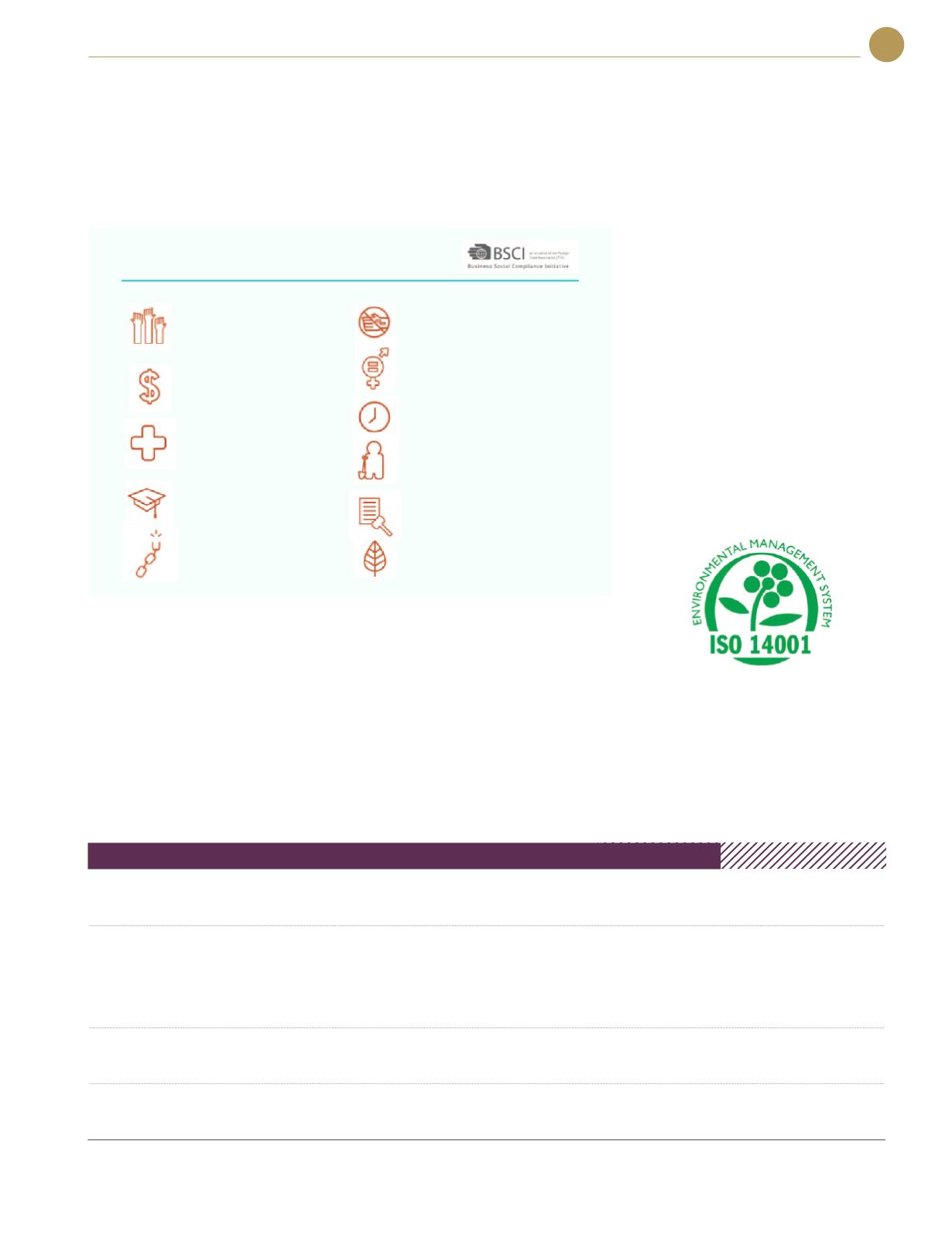 Annual Report 2017
55
COMPANY
ACCREDITATION TYPE
Fima Bulking
ISO 9001:2008
Handling, storage & shipment oleochemicals, oils and fats
Services Berhad
Fimachem Sdn Bhd
ISO 9001:2008
Transferring from ships, handling, filling of drums and transport of hazardous
& non-hazardous liquids
OHSAS18001:2007
Transferring from ships, handling, filling of drums and transport of hazardous
& non-hazardous liquids
Fima Freight
ISO 9001:2008
Freight forwarding & bulk transportation
Forwarders Sdn Bhd
Fima Palmbulk
ISO 9001:2008
Handling, storage & shipment of oleochemicals, edible oils, molasses
Services Sdn Bhd
and latex
principles of the code of conduct
ethical business behaviour
no discrimination
decent working hours
no child labour
no precarious employment
protection of the environment
the rights of freedom
of association and
collective bargaining
fair remuneration
occupational
health and safety
special protection
for young workers
no bonded labour
compliance with these requirements, we
are subject to a number of audits and
inspections. This includes (but not limited
to) audits conducted by government and
regulatory authorities such the National
Fisheries Authority of Papua New
Guinea and annual audits performed by
independent third-party organizations for
the British Retail Consortium (for which
IFC achieved Grade A), International
Food Standard, Dolphin Safe, HACCP,
GMP, Marine Stewardship Council and
Halal (JAKIM) accreditations.
IFC is also subjected to the Business
Social Compliance Initiative (BSCI) Code
of Conduct, which is based mainly on the
conventions of the International Labour
Organization. We are proud to report
that pursuant to a BSCI audit performed
during the year, IFC had achieved BSCI
Grade A.
Further, the
Plantation Division's
Indonesian subsidiary, PT Nunukan Jaya
Lestari ("PTNJL") is accredited with ISO
14001:2004 Environment Management
System for the processes employed in
the production of its CPO, CPKO and palm
kernel. The Indonesian Sustainable Palm
Oil ("ISPO") audit on PTNJL has currently
been put on hold, albeit temporarily as
authorities await a definitive outcome
of their ongoing legal suit pertaining to
PTNJL's land title before resuming the
audit process for ISPO consideration.
Management does not believe this
will have any material affect to PTNJL's
operations in the near-term.
SUSTAINABILITY
REPORT 2017
The following companies within the
Bulking Division
adhere to globally
recognized quality management systems
for the handling, storage and shipment
of various product categories to help
maintain objective oversight of the
quality of its operations.