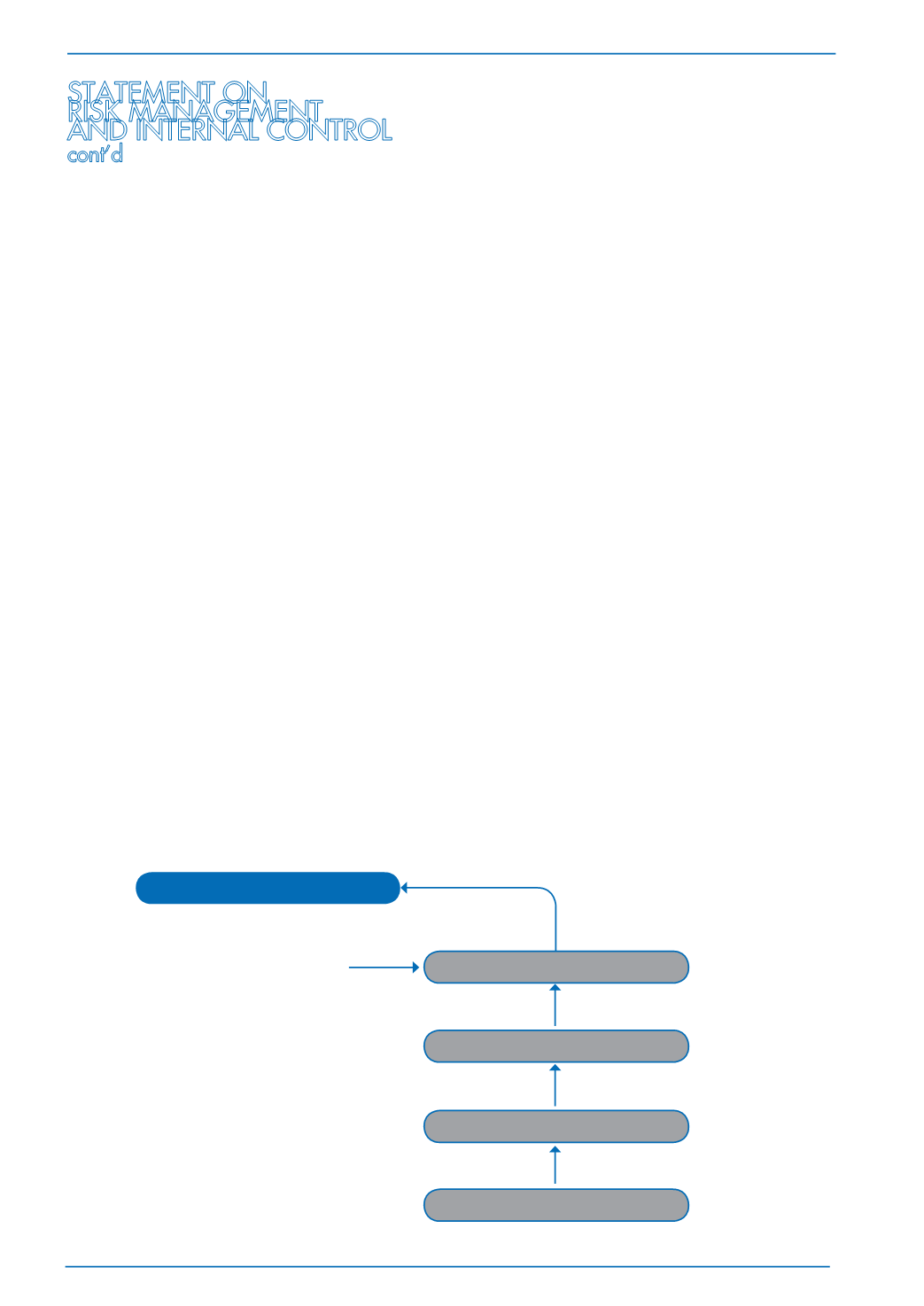 page
76
KUMPULAN FIMA BERHAD
(11817-V) |
Annual Report
2016
For the year under review, the GIA had undertaken the following work:
•
Developed an annual audit plan using a risk-based approach, taking into consideration of the key
business units of the Group and input from senior management and the Audit Committee members.
•
Provided independent assessment and objective assurance over the adequacy and effectiveness of
risk management and internal control processes.
•
Provided independent and objective reviews of the adequacy and relevance of internal controls enforced
to mitigate risk exposures.
•
Ascertained the level of compliance with established policies and procedures of the Group.
•
Performed risk-based audits based on the annual audit plan, including follow-up of matters from
previous internal audit reports.
•
Issued internal audit reports to the Management on risk management, control and governance issues
together with recommendations for improvements and enhancements to the existing system of internal
control and work procedures/processes.
•
Undertook ad-hoc reviews and investigations on matters arising from the audits or requested by the
Management or Audit Committee and issued reports accordingly. Reviewed the procedures relating to
related party transactions entered into by the Group to ensure that the related party transactions have
been conducted on the Group's normal commercial terms and are not to the detriment of the Group's
minority shareholders.
•
Preparation of Audit Committee Report and Statement on Risk Management and Internal Control for
the Company's financial year ended 31 March 2015 Annual Report.
During the financial year ended 31 March 2016, a total of 11 reports comprising planned assignments
were issued. The areas reviewed included the control environment, risk management, revenue assurance,
procurement, finance, human resource, occupational safety and health and regulatory compliance and
operations.
The total cost incurred by GIA in discharging its internal audit function in respect of the financial year ended
31 March 2016 was RM377,000 (2015:RM487,000).
6.
ENTERPRISE RISK MANAGEMENT ("ERM")
Board of Directors
Group Internal Audit
Audit Committee
Risk Management Committee
Risk Management Unit
Group Support Function