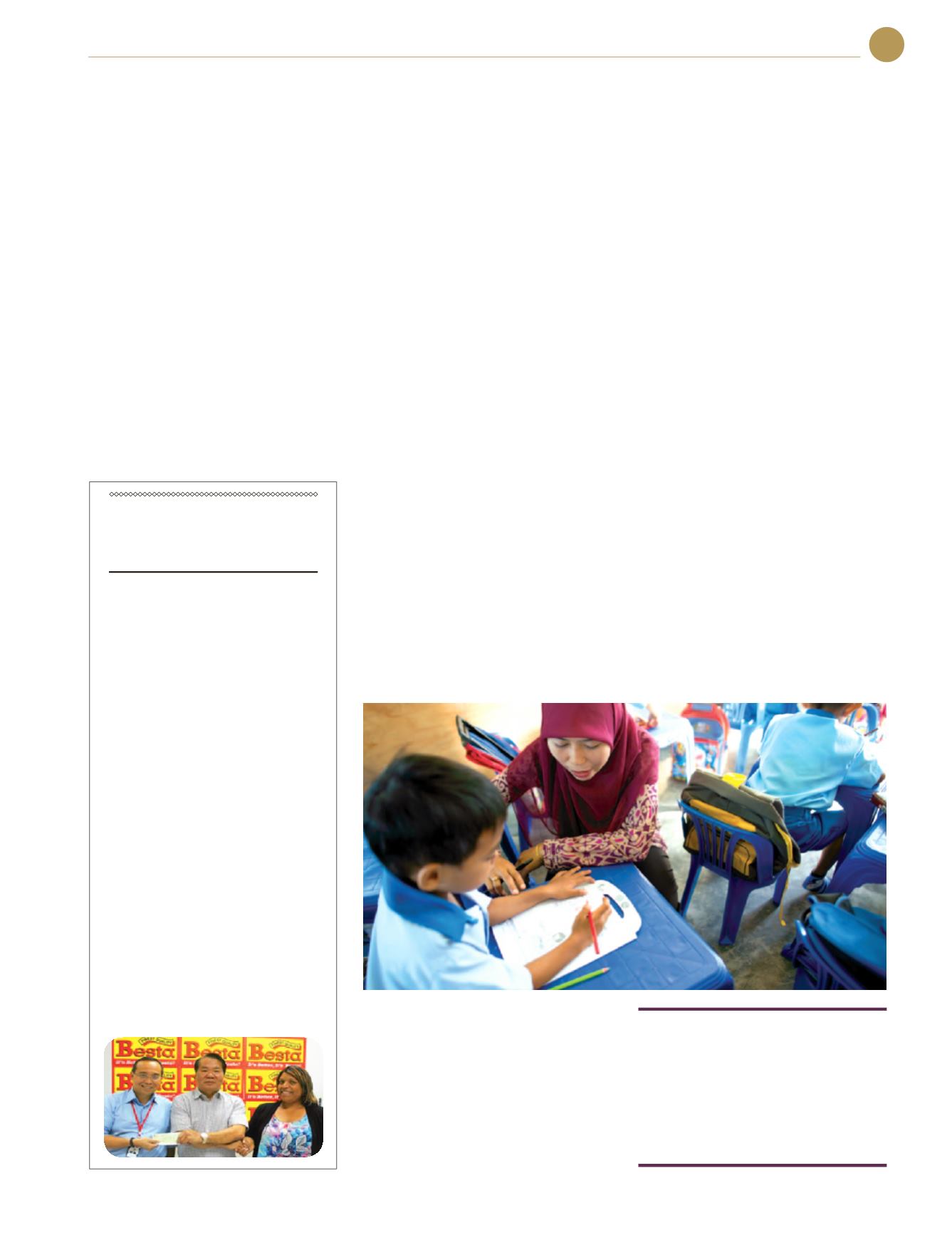 Annual Report 2017
69
Group employees had also participated
in the "Great Eastern Bubble Dash
2016" organized by Great Eastern in
Kuala Lumpur. Funds raised therefrom
will go towards supporting The Heart
Foundation of Malaysia.
COMMUNITY
We believe in contributing economically
and socially to the well-being of the
communities where we conduct
business. Supporting economic and
Community Support
Rm
1,000,000
Spent on Community Investments
and Activities
>
Empowering underprivileged sections
of society through sponsorship and
providing resources is an important part
of our community outreach. We continued
with our sponsorship of Persatuan
Al-Hunafa, a non-profit organisation
towards its Titian Samara Programme
designed to help secondary students
with academic and social problems.
SUSTAINABILITY
REPORT 2017
International Food Corporation Ltd
("IFC") is a long-time supporter of the
PNG Football Association ("PNGFA")
having been the title sponsor of the
Besta FA Cup since 2011.
"We are extremely proud to support
PNGFA. Through IFC's sponsorship,
we are able to give back to the wider
community by nurturing young local
talents through their participation in
the national soccer league. This will
give the youngsters much needed
game experience whilst at the same
time fostering community spirit and
goodwill." -
Ahmad Faisal Hamdan,
Chief Operating Officer, IFC
"Our partnership with IFC through the
Besta Youth Development program
has resulted in the nurturing of
successful players that are in the PNG
men's team. In fact, six of the players
in the PNG Men's team came out of the
Besta Youth Development program."
-
PNGFA president David Chung
Game On!
BESTA BACKS PNGFA
social development of the communities
in which we operate is the right thing to
do for our communities as well as for our
businesses.
As part of our commitment in
strengthening the local socio-economic
base, we provide jobs opportunities for
the communities near our projects. In
tandem, the Group hires and trains local
employees at our jobsites, providing
technical training and skills to improve
workers'
wage-earning
potential.
We also support local suppliers and
entrepreneurs through purchasing local
goods and services.
Apart from building and furnishing the
mosques, schools and clinic located
within and around the plantation with
the necessary amenities, our Indonesian
subsidiary, PT Nunukan Jaya Lestari
("PTNJL") also funds the monthly
allowance of teachers, imams and clinic
assistants.
During the year, the programme focuses
on 4 schools in Klang, Selangor and 1
school in Kelantan namely, SMK Raja
Lumu, SMK Pandamaran Jaya, SMK
Telok Gadong and SMK Kampung Jawa
and SMK Laloh, Kuala Krai. The Group
also made a contribution to Teach for
Malaysia towards their efforts in setting-
up an office space in Johor for their
South Region team.
IFC renewed its partnership with the
PNG Football Association and sponsored
the Besta FA Cup. The division also
supported activities or events organised
by various agencies such as PNG
under-20 Women's Team for 2016 World
Cup, Goroka Health Community Work
by Susu Mamas, an NGO that supports
and promotes breast feeding for
infants, Mental Health Day and HIV/Aids
Awareness by Angau General Hospital,
Mini Cultural Show of Wawin Primary
School, Morobe Show and PNG 41st
Independence Day.