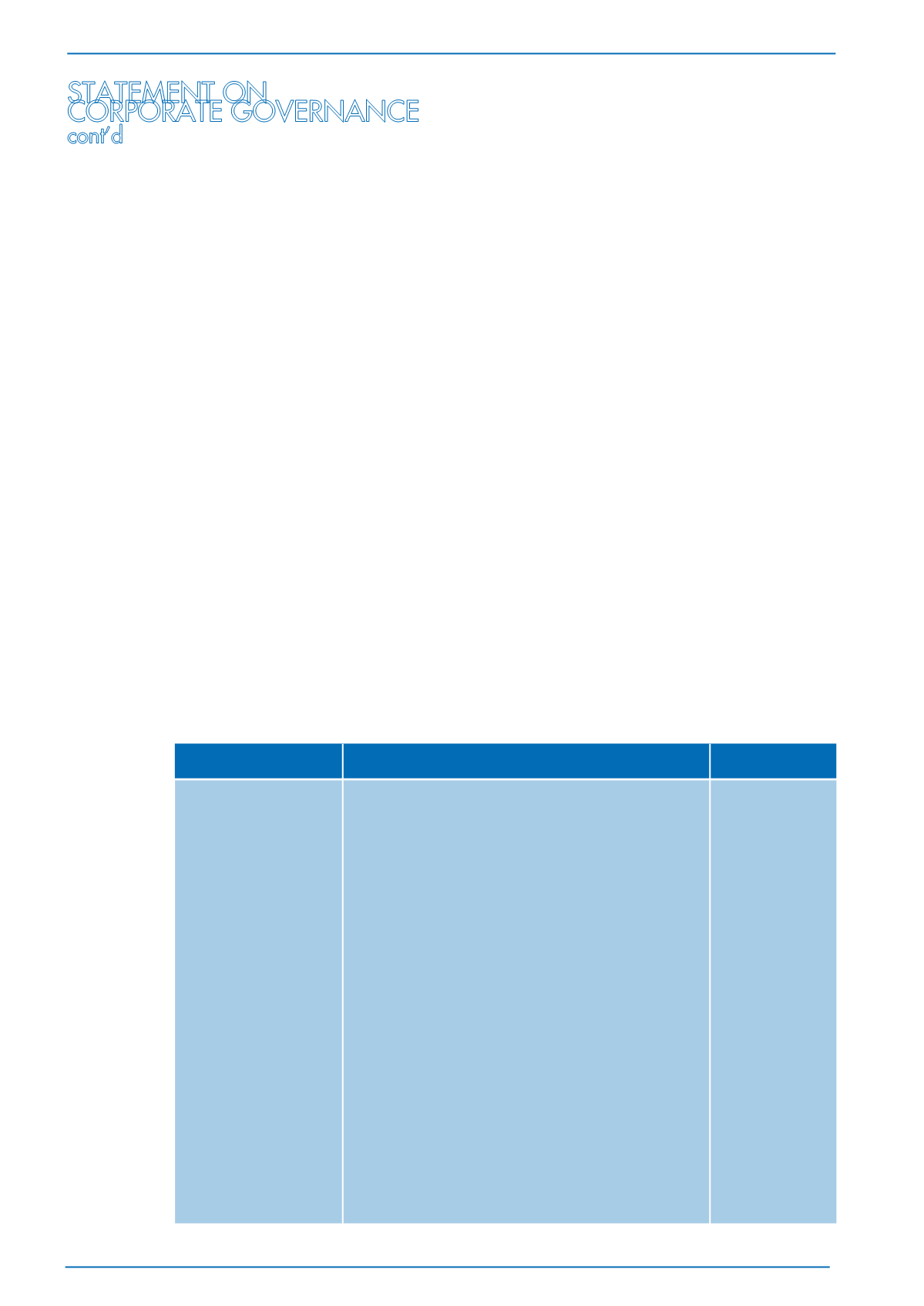 page
58
KUMPULAN FIMA BERHAD
(11817-V) |
Annual Report
2016
Whenever necessary, senior management are also invited to join in Board and Board Committee
meetings to provide explanation or engage in dialogue with Board members on agenda items
being discussed in order for the Board and/or Board Committees to make an informed decision.
All issues raised, deliberations and decisions including dissenting views made at Board meetings
along with clear actions to be taken by responsible parties are recorded in the minutes. Decisions
made, policies approved and follow-up actions at Board meetings will be communicated to
Management after the Board meetings.
During the year, the Board organized an off-site Board retreat with the Management to review
the key issues, threats and opportunities facing the Group over the next few years and to set the
foundation upon which to build the Group's business plans moving forward. The key takeaways
from this session were used by the Management to develop the Group's strategies and business
plans for 2016 until 2020.
1.4.3 Directors' Training
All Directors are encouraged to attend continuous training programmes to enhance their business
acumen and professionalism in discharging their duties to the Group as well as to help them
keep abreast of the current developments and business environment affecting their roles and
responsibilities. The Company Secretary who receives regular updates on training programmes
from regulatory authorities and professional bodies will circulate them to the Directors for their
consideration.
All members of the Board have attended and successfully completed the Mandatory Accreditation
Programme as required under the MMLR. The Directors have also attended and participated in
various external training programmes which are useful for them to discharge their responsibilities.
Particulars of trainings attended by Directors are set out below:
Director
Tan Sri Dato' Ir.
Muhammad Radzi bin
Haji Mansor
Training Attended
•
Malaysia's Political and Economic Outlook: Key
Challenges, Issues and Trends organized by Asian
Strategy & Leadership Institute (ASLI)
•
12
th
ASEAN Leadership Forum organized by Asian
Strategy & Leadership Institute (ASLI)
•
2
nd
National Economic Summit "An Update on
the 11
th
Malaysia Plan - Addressing Current and
Future Challenges" organized by Asian Strategy &
Leadership Institute (ASLI)
•
Board Chairman Series Part 2: Leadership
Excellence from the Chair organized by Bursa
Malaysia Berhad
•
Conducting Dato' Ir Prof Dr. Chuah Hean Teik
Engineering Education Prestige Lecture Series
on "Training of future engineers: Success story of
Telecom engineers from training school to university
level" organized by the Institution of Engineers
Malaysia
•
Special Dialogue with Prime Minister of Vietnam
organized by Kuala Lumpur Business Club
Date Held
07/04/2015
26/04/2015
08/06/2015
27/07/2015
01/08/2015
08/08/2015