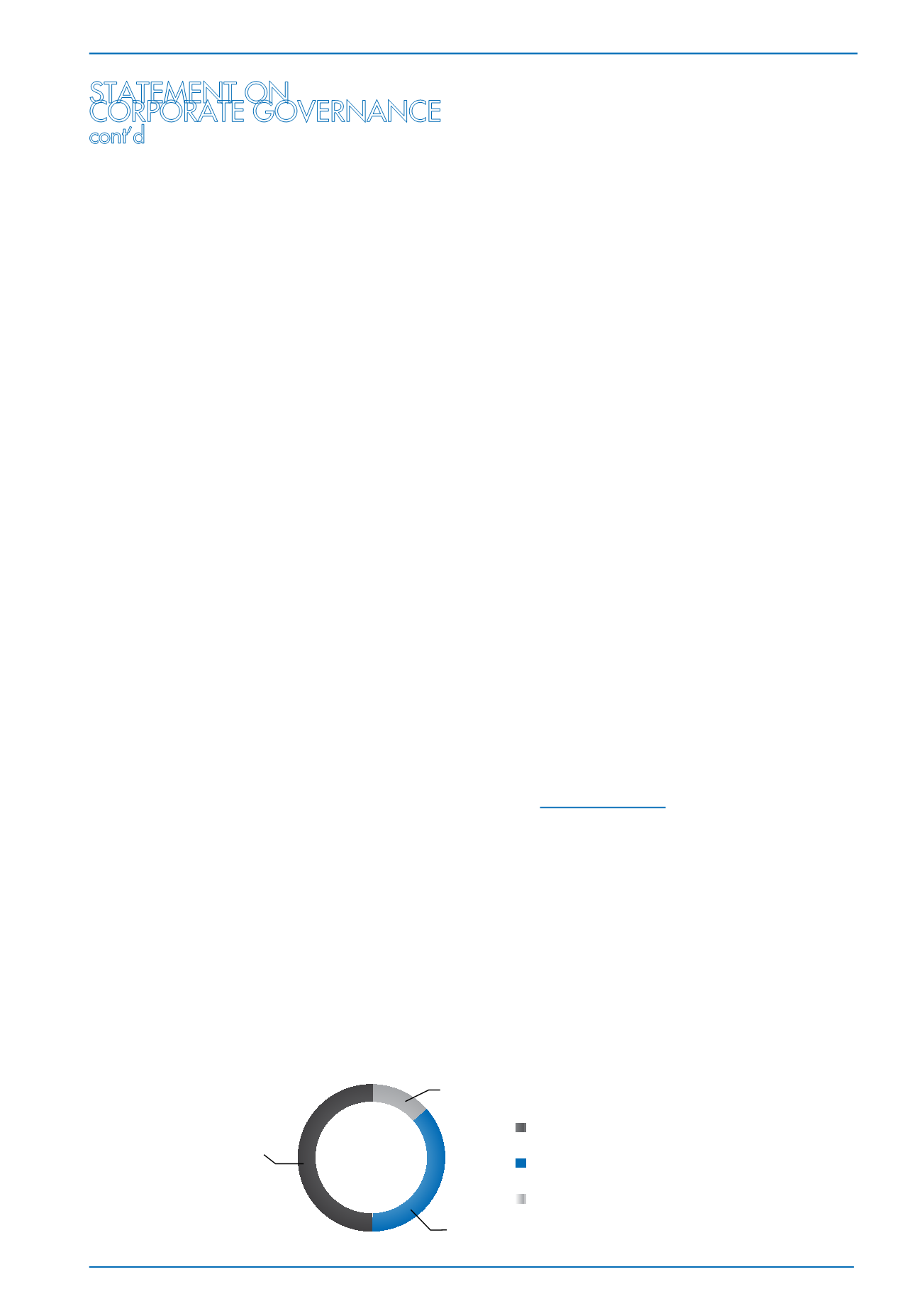 page
55
KUMPULAN FIMA BERHAD
(11817-V) |
Annual Report
2016
▪
reviewed and approved the quarterly results and the audited financial statements for the financial
year ended 31 March 2016.
▪
received the quarterly group performance report from the Group Managing Director on significant
changes/development in the business and the external environment, which affects the operations.
▪
reviewed and assessed the annual assessment of the effectiveness of the Board, Board
Committees, and External and Internal Auditors by the Audit Committee.
▪
reviewed the current compositions of the Board and Independent Directors and the time
commitment given by the Directors in fulfilling their responsibilities as Directors and members of
the Board Committees.
▪
reviewed the tenure of the Independent Director's time in office.
▪
reviewed the Audit Planning Memorandum for the year ending 31 March 2016.
▪
reviewed and approved the revised authority limits for the operating expenditures (OPEX) of the
Group and formation of the tender committee and its member.
▪
reviewed and approved the terms of reference of the Bulking Group's Executive Committee and
the composition of the committee's members.
▪
reviewed and approved the statements for insertion in the Company's Annual Report for the
financial year ended 31 March 2015.
▪
reviewed the draft Circular to Shareholders in relation to the proposed renewal of shareholders'
mandate for recurrent related party transactions of revenue or trading nature.
▪
recommended the final dividend for financial year ended 31 March 2015.
▪
noted the minutes of Board Committees and Head of Divisions meetings on a quarterly basis.
▪
noted the reports on dealings by Directors and Principal Officers in the Company's securities.
The Board has established Board Committees, namely the Audit Committee, Nomination Committee,
Remuneration Committee and Options Committee to assist the Board in the discharge of its stewardship
role. The Board Committees have the authority to examine specific issues within their respective terms
of reference as approved by the Board and report to the Board with their recommendations. The ultimate
responsibility for decision making, however, lies with the Board.
The roles and responsibilities of the Board are formalised in a Board Charter which is available in the
Investor Relations section of the Company's website at
www.fima.com.my
.
The Board is also guided by company laws and the Code of Ethics for Company Directors issued
by the Companies Commission of Malaysia in discharging its responsibilities. The foregoing provides
guidance for proper standards of conduct, sound and prudent business practices as well as standards
of ethical behaviour for Directors, based on principles of integrity, responsibility, sincerity and corporate
social responsibility.
1.2 Composition and Board Balance
The Board currently comprises one (1) Independent and Non-Executive Chairman, one (1) Group
Managing Director (Executive and Non-Independent), one (1) Senior Independent Non-Executive
Director, one (1) Independent Non-Executive Director and two (2) Non-Executive and Non-Independent
Directors.
Non-Independent Non-Executive Directors
33.33%
50%
Independent Non-Executive Directors
16.67%
Executive Non-Independent Director